Kindergarten Tour Join us to learn more about our kindergarten programs! These will be focused specifically on our kindergarten classrooms and curriculum and will be a perfect time to see the eStem difference in action! Make sure to sign up via the RSVP link so that we can send you all the necessary information prior to the tour.
https://www.cognitoforms.com/EStemPCSAdmissions/EStemKindergartenTourRSVP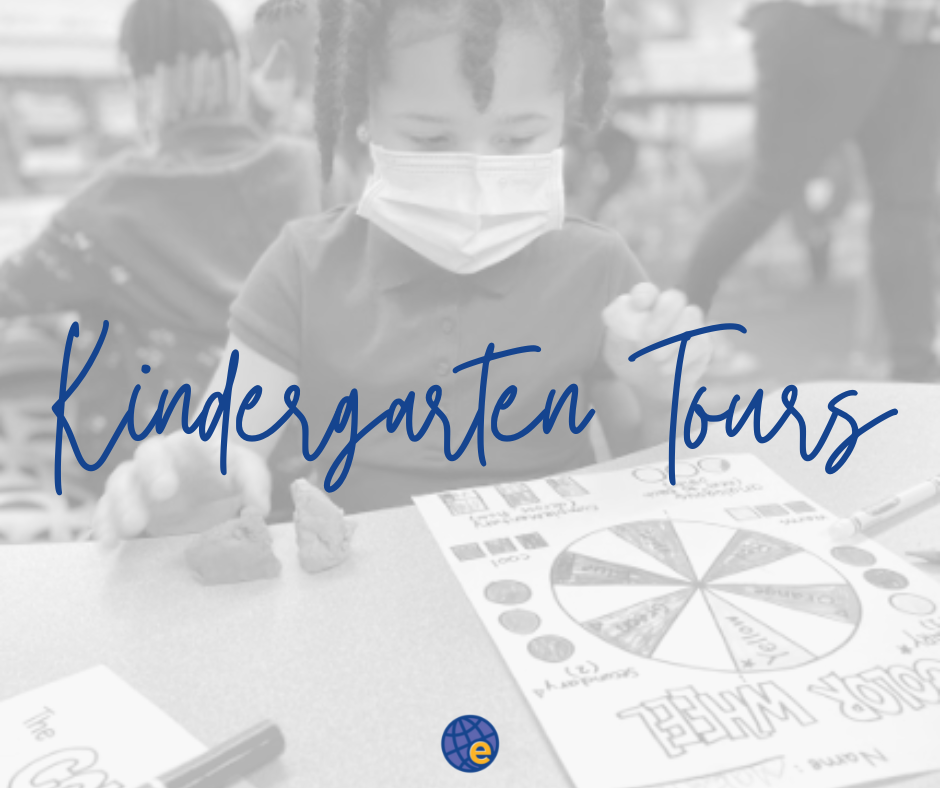 Reminders for DTK6 tomorrow! Wear your college shirts/gear or dress for the career you want for Red Ribbon Week. Flu clinic is tomorrow - make sure you have turned in both forms! You can order the 22-23 yearbook on Jostens.com for $42. If you need last year's book, it's available on MySchoolBucks. Also, please send in one bag of candy for our Fall Fest by Thursday!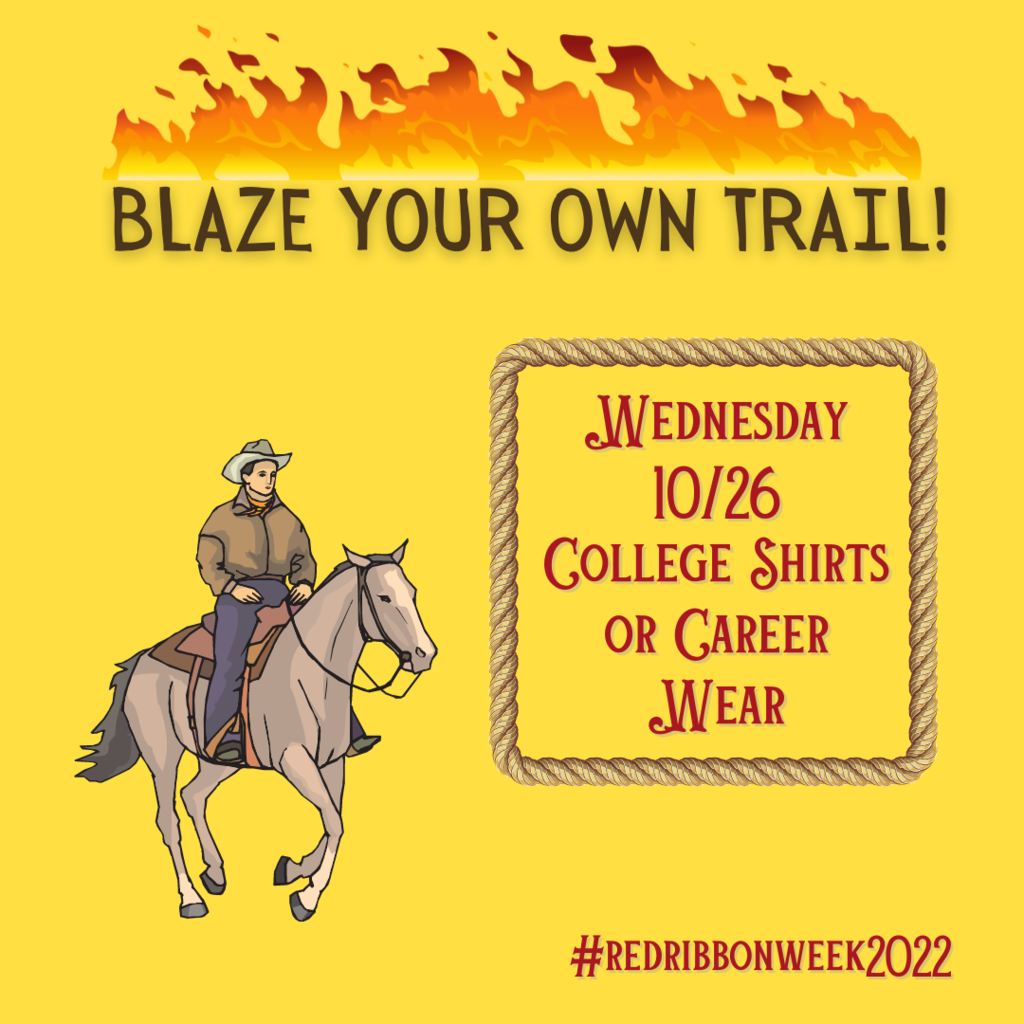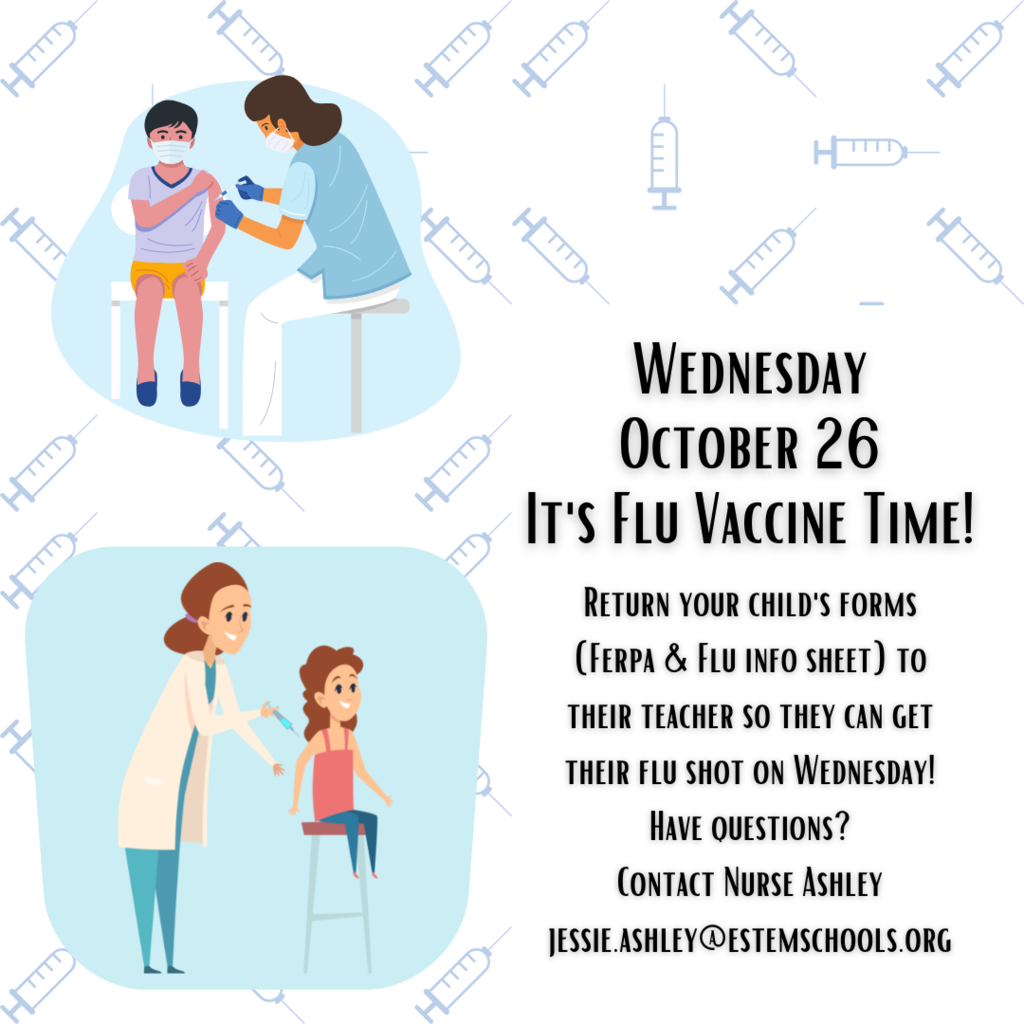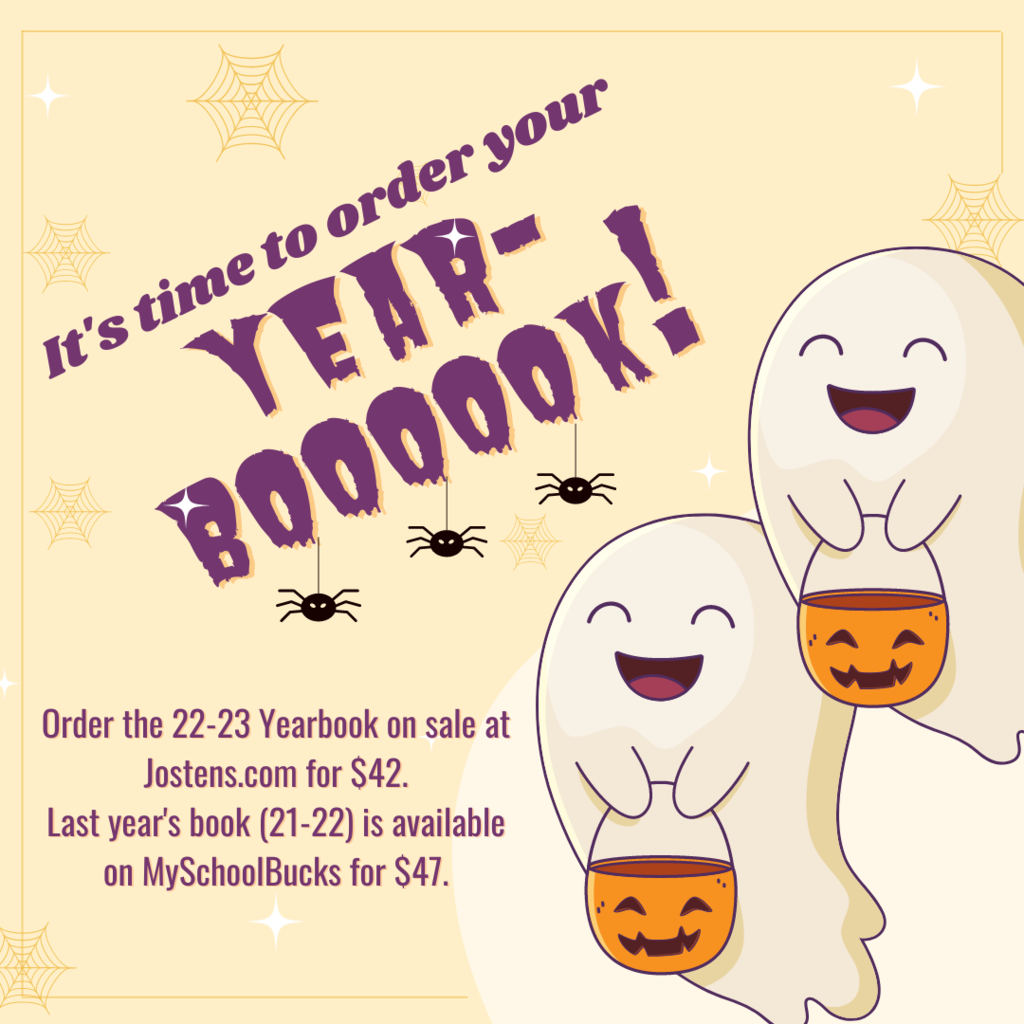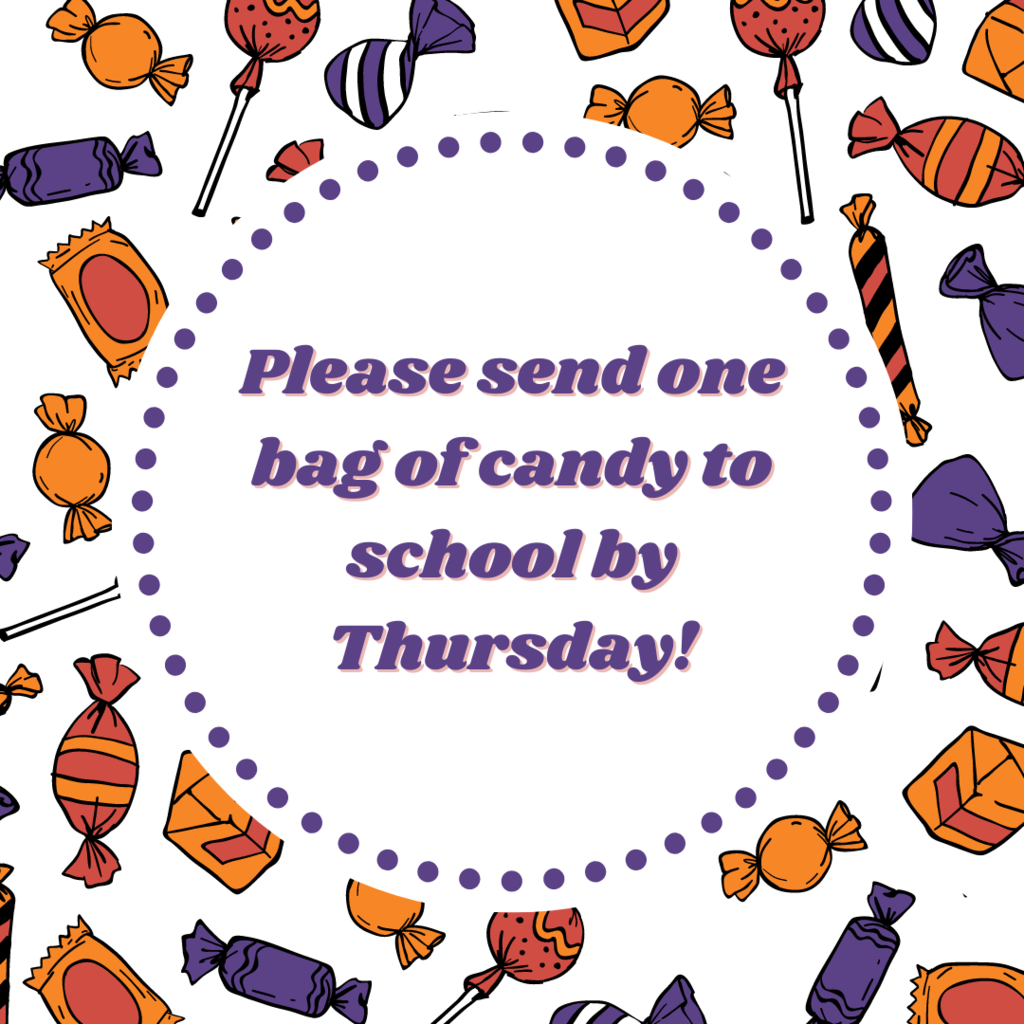 Happening Today! Kindergarten Virtual Q&A Session Join our Admissions Team and School Directors for a virtual Q & A session to answer any of your questions about eStem. This session will focus specifically on our kindergarten programs. Make sure to sign up via the RSVP link so that we can send you all the necessary information prior to the session. RSVP HERE:
https://www.cognitoforms.com/EStemPCSAdmissions/VirtualQASessionRSVP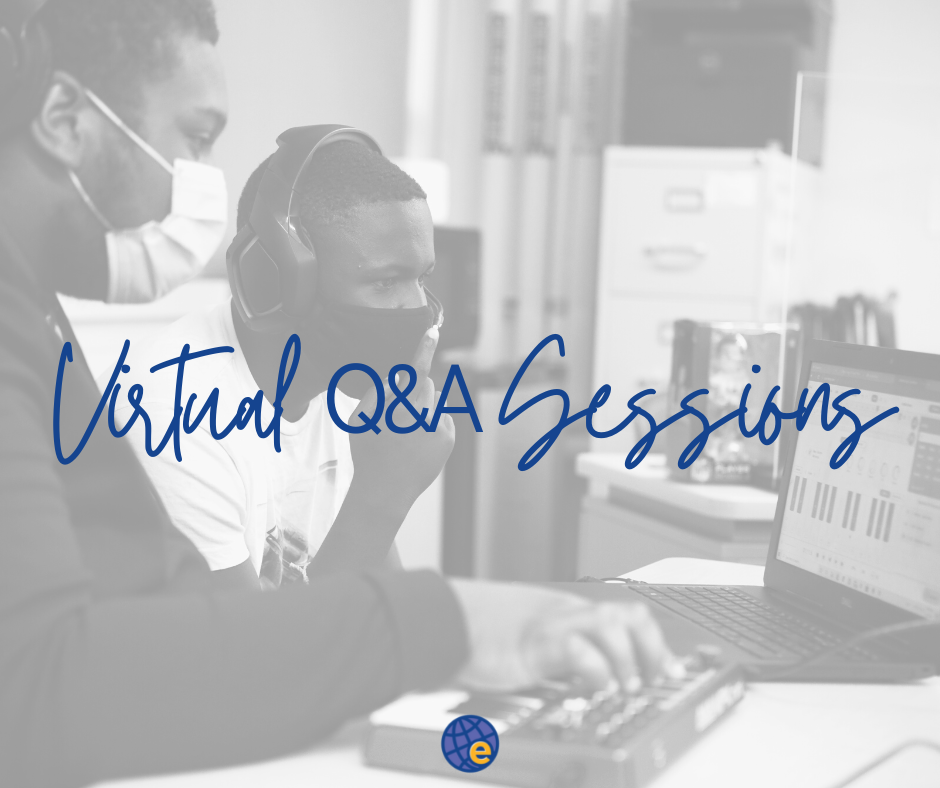 Thanks to all those who have purchased raffle tickets so far. The lucky winner could be YOU! Get your tickets today!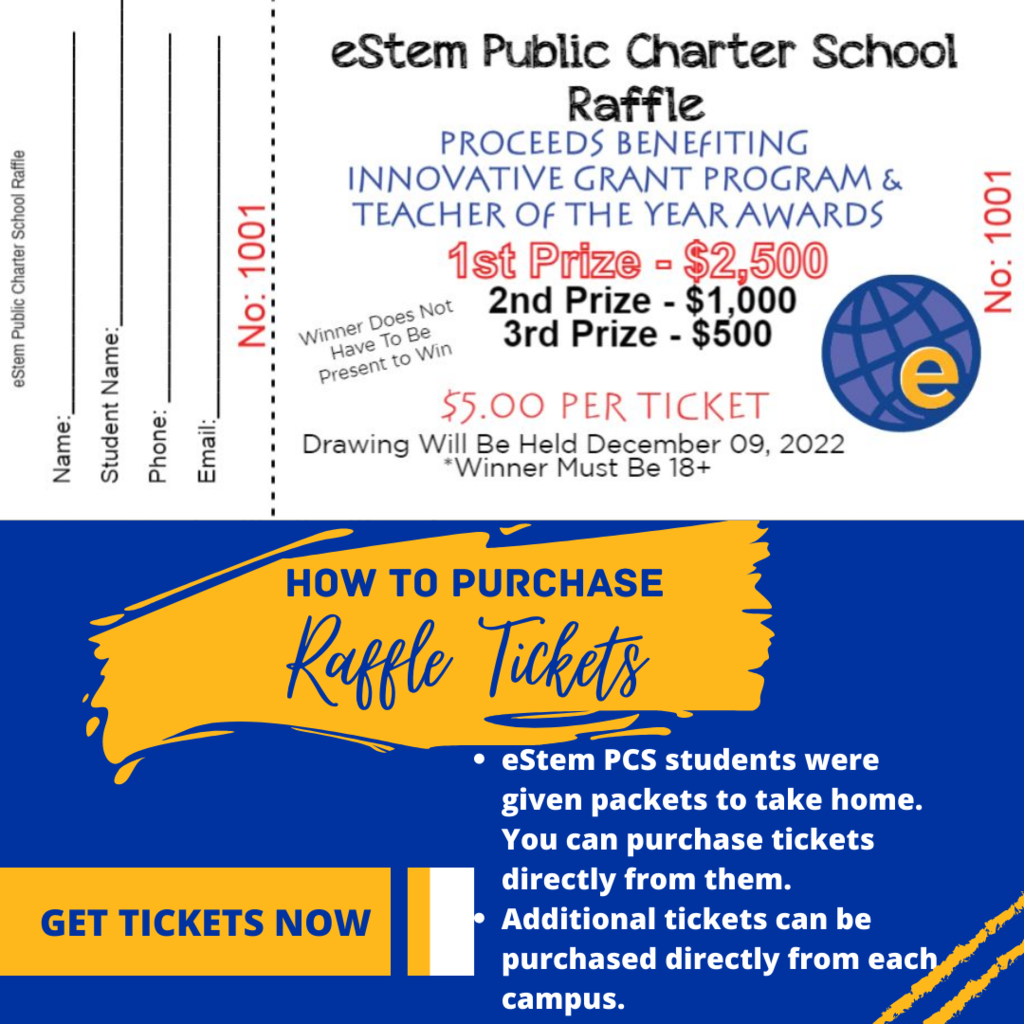 Early Action Open Enrollment is coming soon! If you have a child who is interested in attending kindergarten at eStem for the 2023-24 school year, the time to submit your online admissions application is almost here! Apply for the upcoming school year between November 1st – December 1st! Kindergarten families will be notified by December 18th! To be eligible for kindergarten for the upcoming year, your child must turn 5 by August 1, 2023. To apply, please visit our website –
https://www.estemschools.org/page/admissions-applications
and submit an application!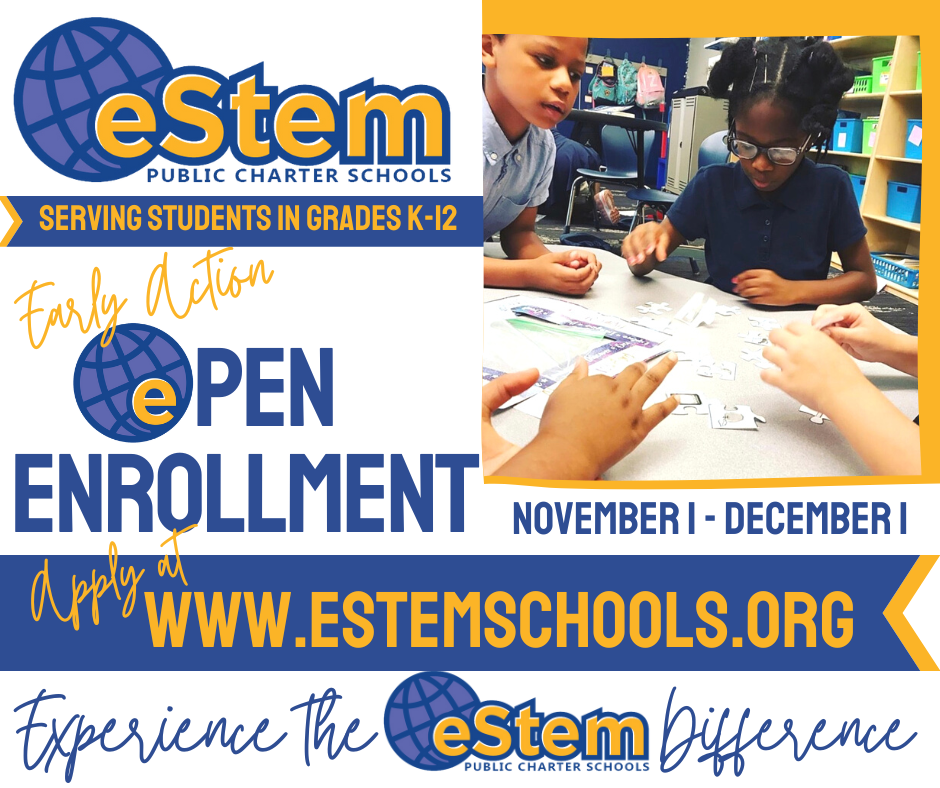 Did you know that our raffle sales have officially started? Who will be the lucky winners this year? Which campus will be the top-selling school? The drawing will be held on December 9th, 2022.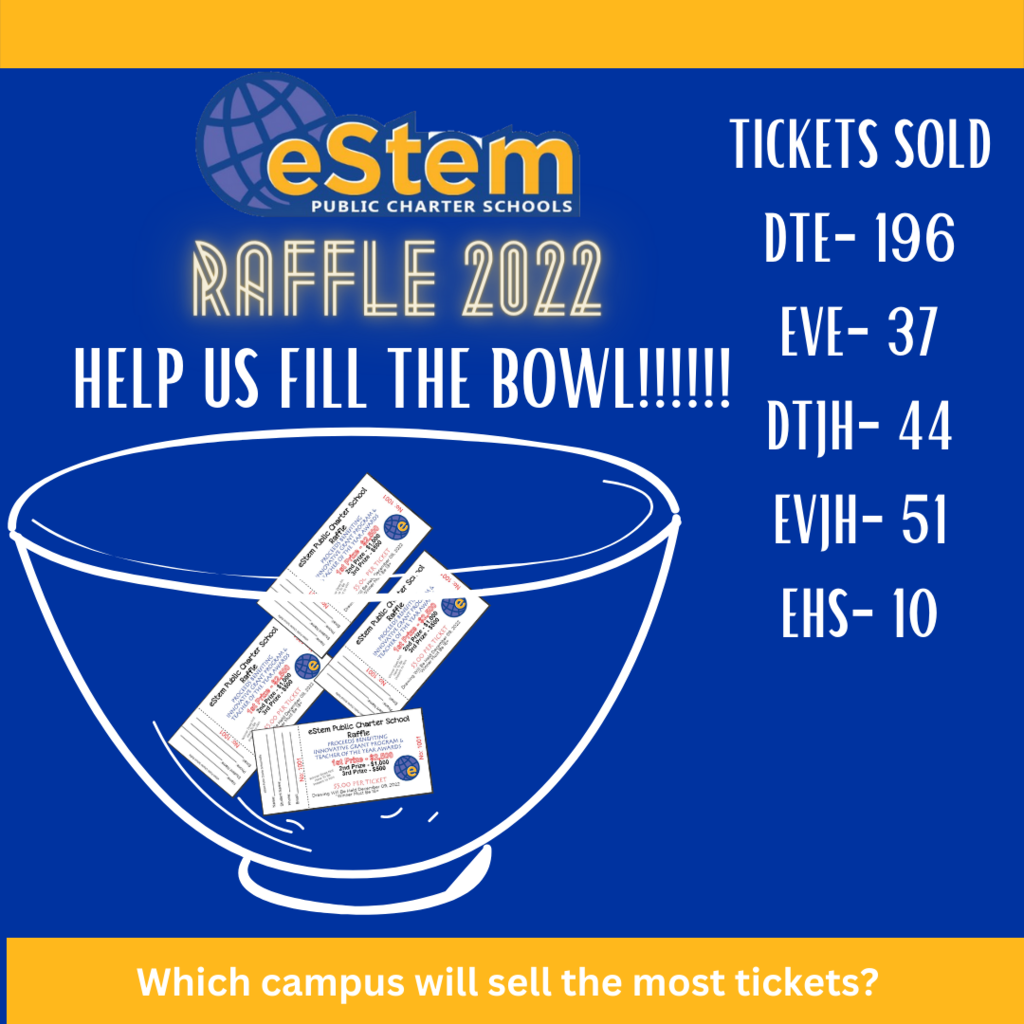 Happy Friday eStem Families! Here is a list of upcoming events! If you are enjoying the reminders leave a gold and blue heart in the comment section!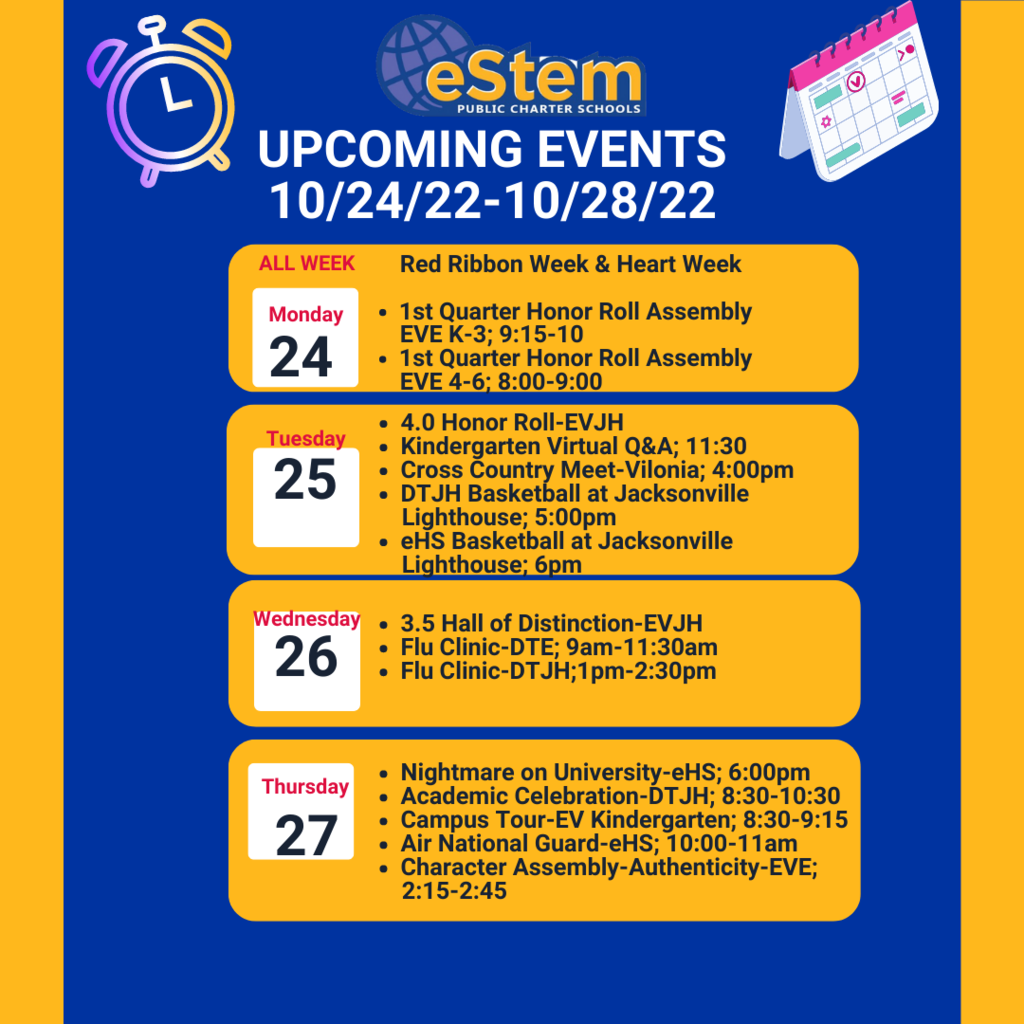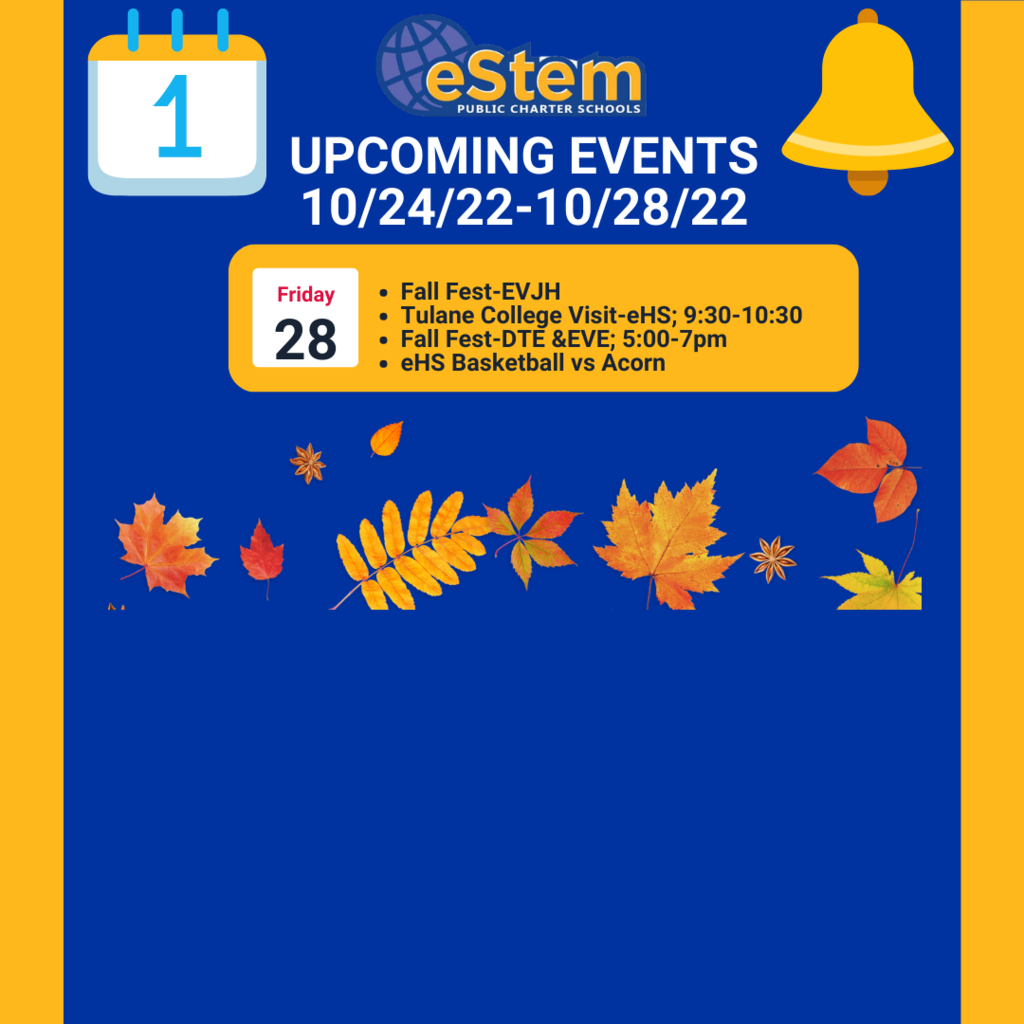 Good afternoon DTJH Families, Check out this week's edition of The Mets Press!
https://5il.co/1jo2p
Have a great weekend!

Happy Friday DTK6! Here is this week's newsletter from our Director. We have a big week coming with Red Ribbon week and Fall Fest. Check out all the details here!
https://5il.co/1jo9j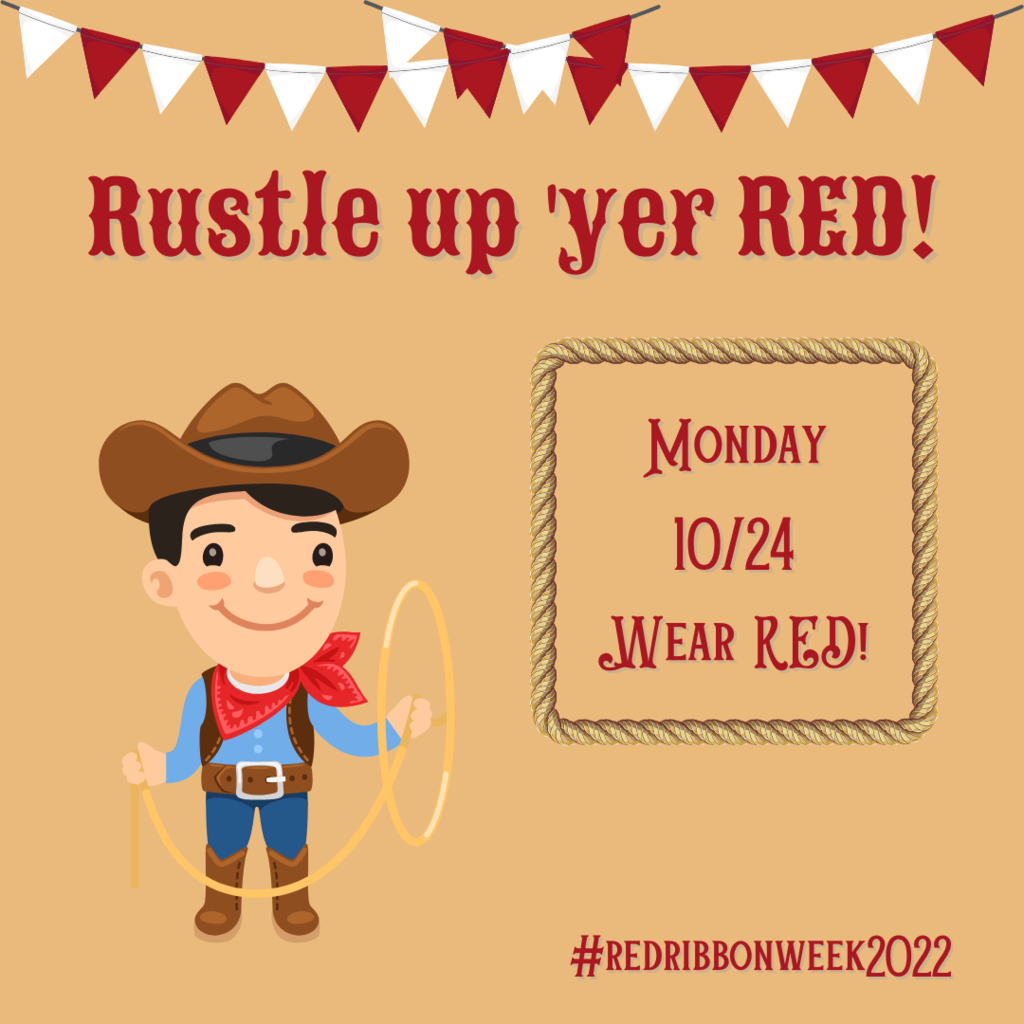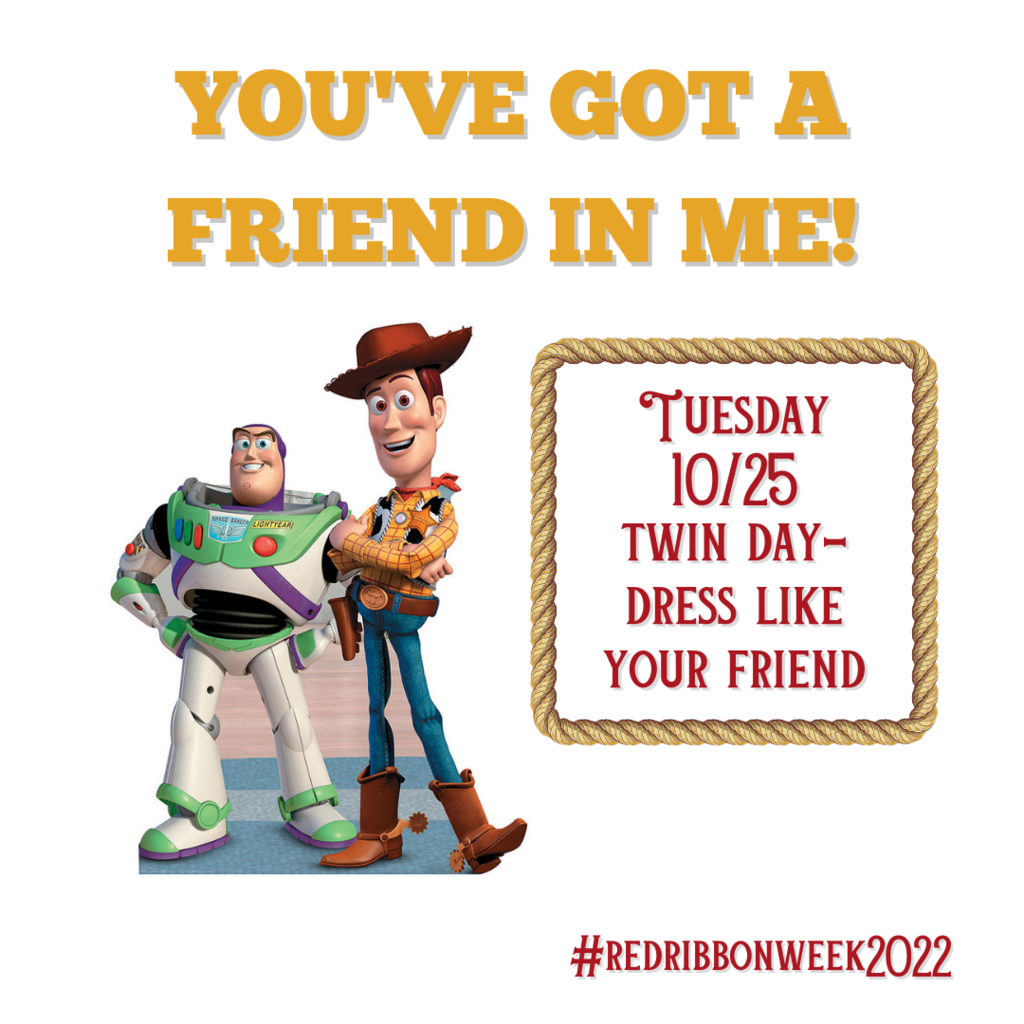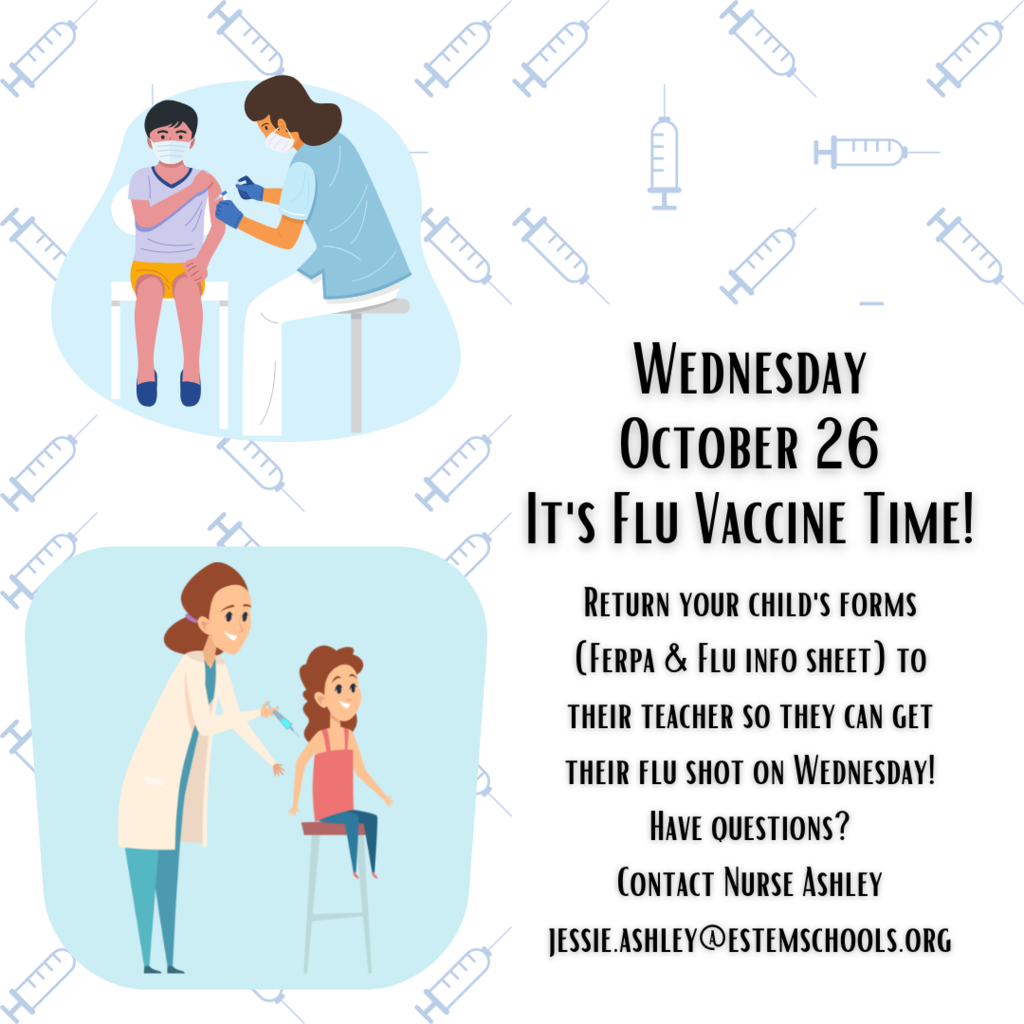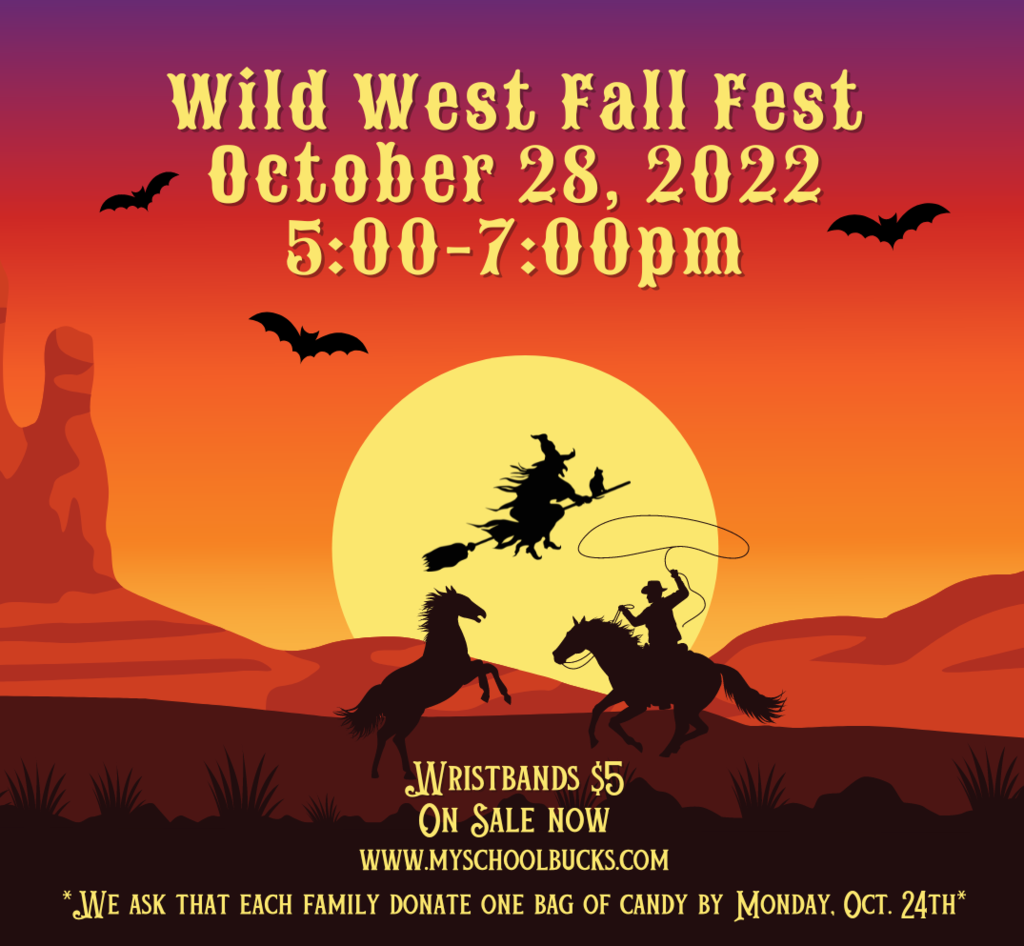 Good afternoon EVJH families! Fall Fest is just a week away! In order to attend students must have a completed permission slip and have paid for their admission which includes a t-shirt, a meal and access to all the fun and games! If this has not been done, it isn't too late as permission slips and payments will be accepted leading up to the event.
Greetings EVJH families! The 2022-2023 eStem East Village Junior High School Yearbook is currently being offered for $45.00. That's a savings of $10.00! As we get further into the school year, the price will continue to increase. If you would like to take advantage of this pre-order offer and any additional offerings, including personalization please visit -
https://www.jostens.com/apps/store/customer/2968414/ESTEM-EAST-VILLAGE-JUNIOR-HIGH-SCHOOL/
And remember, yearbooks are memories from cover to cover that will last for a lifetime!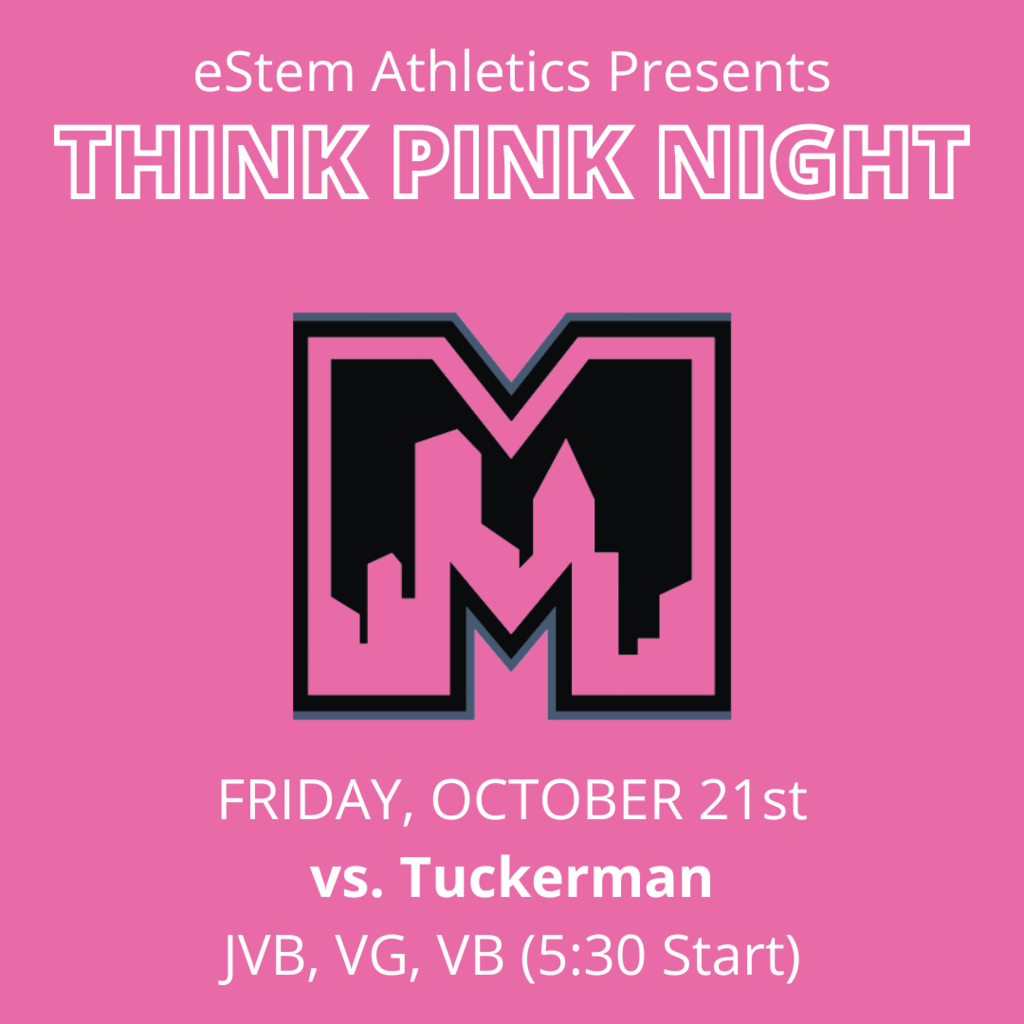 Greetings EVJH parents and guardians! Picture Day is TOMORROW, October 20th. Students will be escorted by their Social Studies teachers to the setup area. Please refrain from wearing green as the photographer will use a green screen for the backdrop. We look forward to seeing those smiling faces!

eStem families, we need your support! GSA, MHA, & Youth Indivisible are raising funds & awareness for the American Foundation for Suicide Prevention. Their goal is to raise $1000! We encourage all students & staff to join the Out of Darkness Community Walk on Sunday, Oct 23rd at 2 pm at War Memorial Golf Course, Fair Park Blvd, Little Rock, AR to show our community the importance of mental health and suicide prevention at eStem High School! Donate here:
https://supporting.afsp.org/index.cfm?fuseaction=donate.team&teamID=304421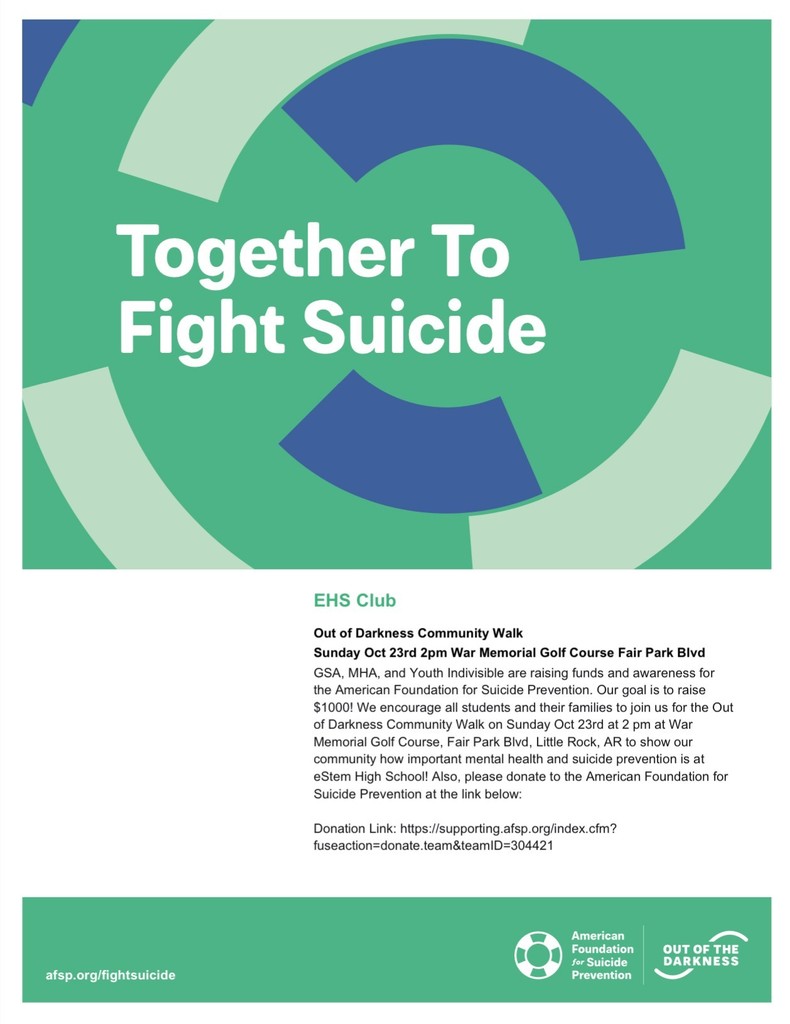 Support your child's mental health and wellness by joining an informative event for parents and educators. Ask questions of leading psychologist Dr. Sufna John and learn about free resources. Join here:
https://bit.ly/ADE-Family
Good morning EVJH parents and guardians! The East Village Connect After School Program is a resource for students to help close the achievement gaps in Literacy and Mathematics. It is an opportunity to foster connections, promote academic improvement and mark readiness in regards to ACT Aspire and NWEA testing. The program will start today, October 17th and will follow the schedule located at the top of the form. Please use the link below to sign up -
https://www.cognitoforms.com/EStemPublicCharterSchool/EastVillageConnectAfterSchoolProgram2
If you have any questions or concerns, please reach out to Ms. Kawana McCloud at
kawana.mccloud@lrstem.com

Good day eStem families! We are starting the 2nd quarter with a full week. Here is a list of upcoming events!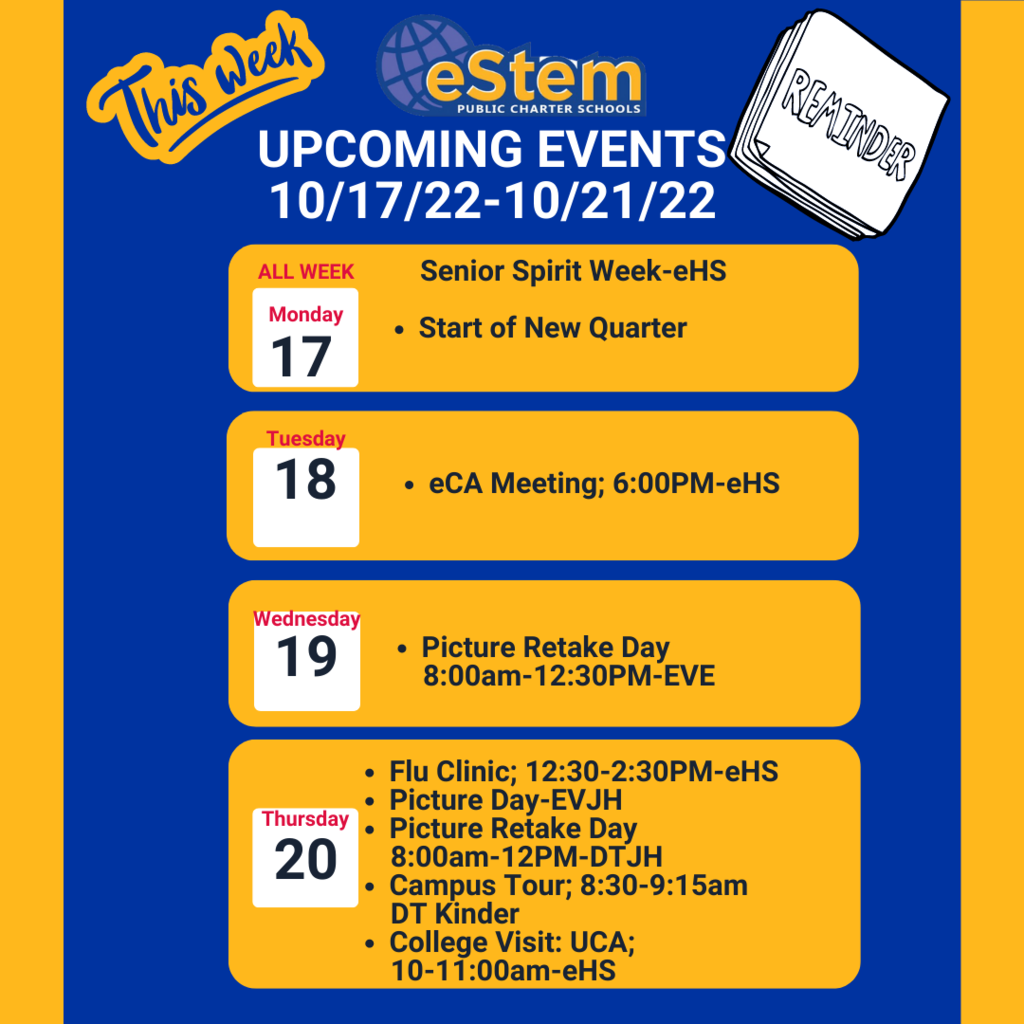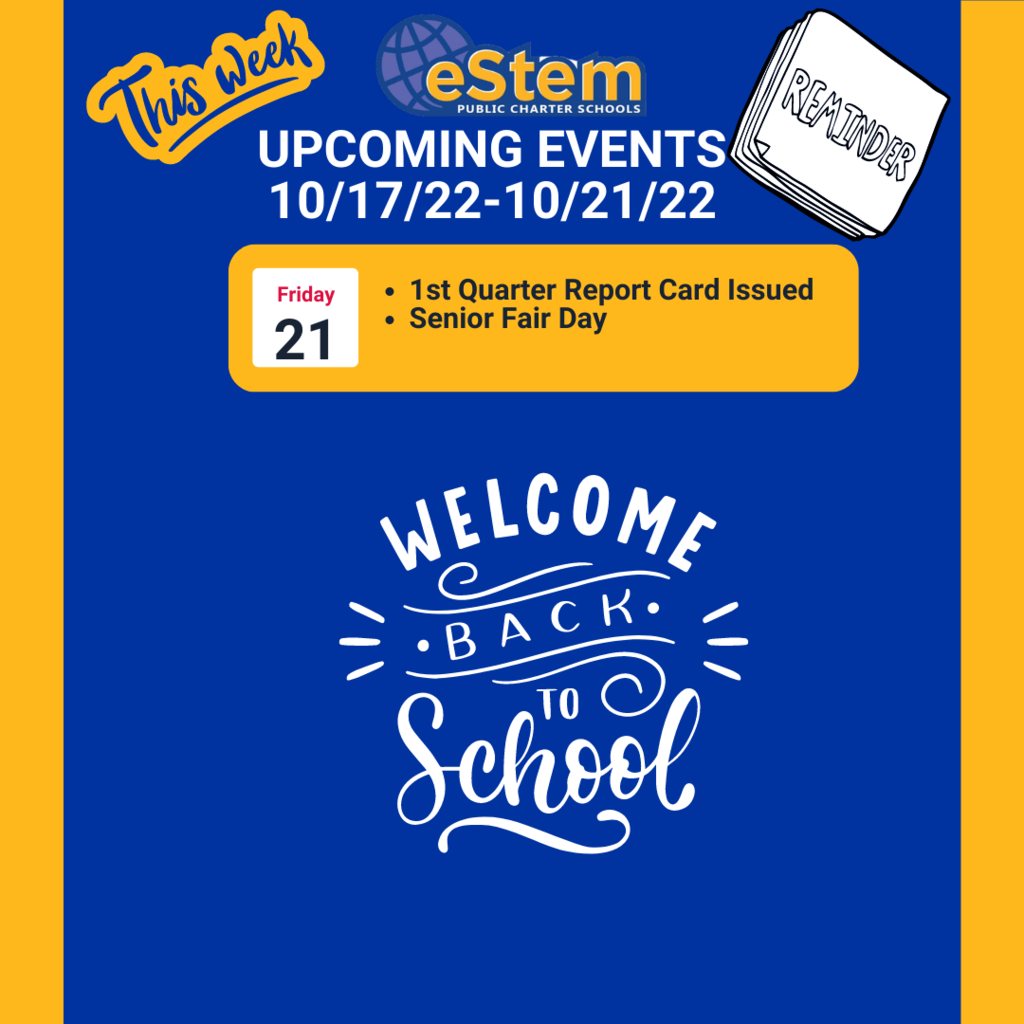 Good afternoon DTJH Families, Check out this week's edition of The Mets Press!
https://5il.co/1j24p
Due to technical difficulties, we are unable to send the regular newsletter email. We hope you all enjoy your Fall Break! See you on Monday, October 17th.

Happy Fall Break eStem Families! See you back on October, 17th!