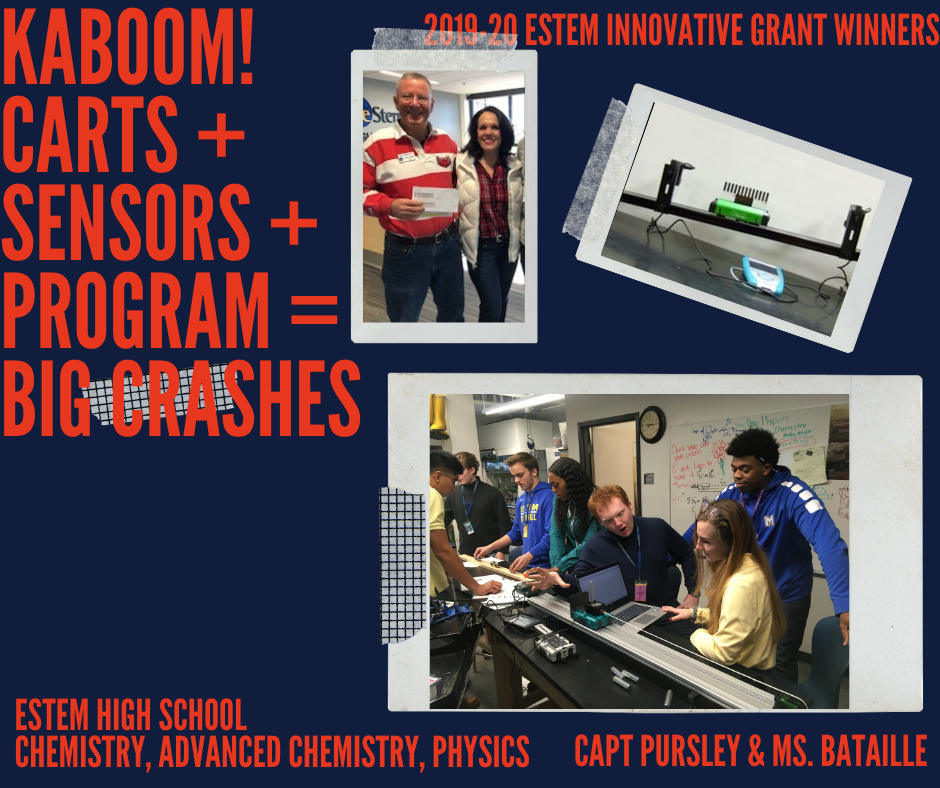 Innovative Grant Winners - Kaboom! Carts + Sensors + Program = Big Crashes!
Jessi Forster
Thursday, January 23, 2020
We are excited to share another one of our Innovative Grant winners with you! This week, we are featuring a High School project - Kaboom! Carts + Sensors + Program = Big Crashes! - by CAPT Pursley and Ms. Bataille. In a Kinematics lab, Physics students designed and programmed experiments using carts, accelerometers, and force probes. They then had to translate this data into easy to understand instructions so that students without programming skills could execute these experiments. Chemistry & Advanced Chemistry students had to approve the criteria in order for the information to be used! The equipment and skills that the students will learn through this project will be used throughout the year! CAPT Pursley & Ms. Bataille have taken some difficult concepts and created an engaging, hands-on experience for our students to master these skills!
Through our Innovative Grant program, made possible by your sponsorships and donations to our annual Stem Soiree, teachers have the opportunity to submit an idea or project through an application, and if their project is chosen, they receive money for materials and supplies along with a reward for trying something new. We believe it is important to encourage teachers to seek out and implement teaching strategies that reach all types of learners and to reward them for thinking outside of the box!