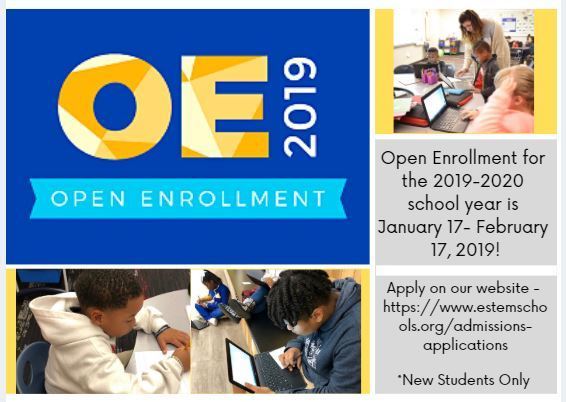 Open Enrollment for the 2019-2020 School Year
Jessi Forster
Friday, January 11, 2019
It's already time to start thinking about the 2019-2020 school year! Open Enrollment for the upcoming school year begins this coming Thursday, January 17th and ends February 17th. To apply, please visit our website – https://www.estemschools.org/admissions-applications and submit an application. For your child's application to be included in the lottery for the 2019-2020 school year, you must submit an application on or before February 17th.
Open Enrollment is for students who will be new to eStem; returning students will have the opportunity to register for the upcoming year in the spring. To be eligible for kindergarten for the upcoming year, your child must turn 5 by August 1st, 2019.
After Open Enrollment, we will run our lottery for seats for the 2019-2020 school year. If your child receives a seat at one of our campuses, you will be notified at that time. If you have any questions about the admissions process, please visit our website or email our Director of Admissions, Rebecca Cleveland at rebecca.cleveland@estemschools.org.