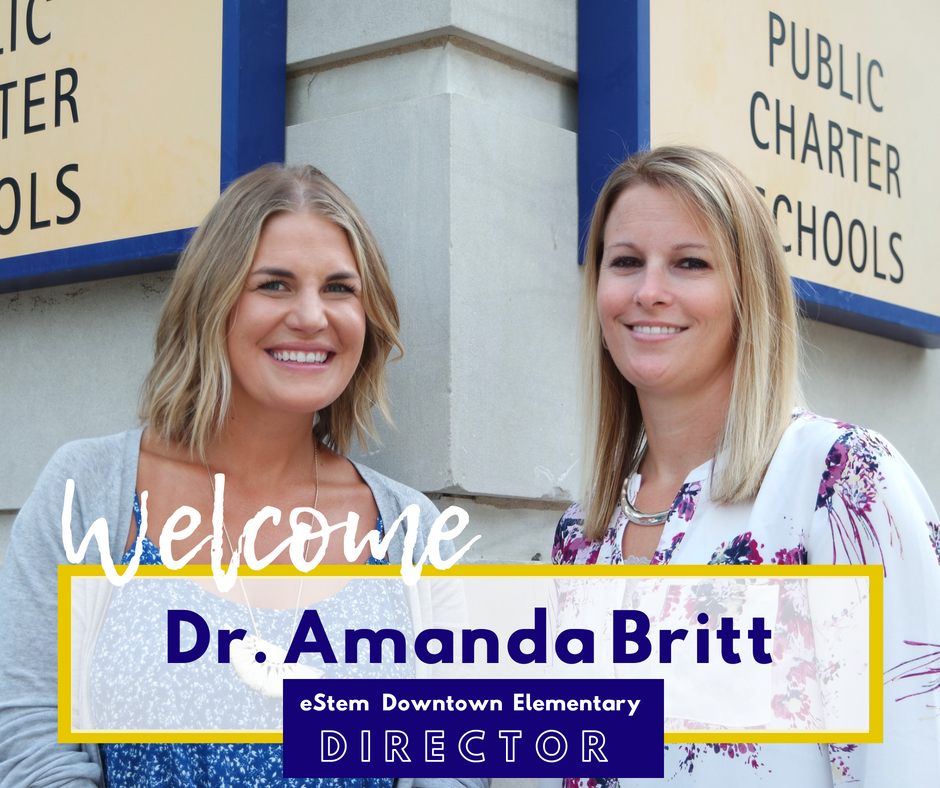 eStem Welcomes Dr. Amanda Britt to Downtown Elementary
Dr. Cindy Barton
Monday, July 02, 2018
We are thrilled about what the future holds for our staff, students and families. This is an exciting time to be a part of eStem Public Charter Schools, especially with the opening of our new campuses this year. As we grow and expand, we see that this endeavor requires additional support at the Charter Management Office (CMO) level. We are pleased to inform you that Mrs. Jessi Forster will be joining our CMO team to assist Dr. Barton in ensuring the successful operation of our schools. This is Mrs. Forster's eleventh year with eStem. She started the year we opened as a kindergarten teacher before moving into a 4th grade classroom. She was the Dean of Staff for Dr. Barton at the K-8 building until moving into the Director role in 2015.
We want this transition for the Downtown Elementary campus to be as smooth as possible, and we are excited to welcome Dr. Amanda Britt to our eStem team. Dr. Britt will eventually step into the role as the Downtown Elementary Director. For the coming weeks, she will work alongside Mrs. Forster as we transition to ensure that our students, staff, and families receive an extra level of support and leadership. Please continue communicating directly with Mrs. Forster as she and Dr. Britt work together through this transition.
Dr. Amanda Britt has 17 years of experience in K-12 education. She is originally from California, but made her way to Arkansas and earned a degree from Henderson State University in Sociology with a minor in Spanish. Dr. Britt entered the teaching profession in 2001 while working on a Master of Arts in Teaching degree. A few years later she earned a Masters Degree in Educational Leadership, and in 2017, Amanda received a Doctorate in Educational Administration. During her career, she has served as a leader at multiple levels as a principal and superintendent. Dr. Britt served on the Arkansas Association for Secondary Principals board, was a 2014 ASCD Emerging Leader, and was elected to the Arkansas ASCD Board of Directors where she currently serves as president. Dr. Britt is a passionate educator who truly cares about kids. She believes that all kids can excel at the highest level when they are surrounded by caring adults who create an environment that is student-centered with multiple opportunities for learning. Amanda and her husband Tommy have two daughters, Hunter and Kiya. Please join us in welcoming Dr. Amanda Britt to our eStem family!!
We cannot begin to express our excitement for the opportunities that lie ahead. This year, we are expanding our reach to serve more students and also further our innovative teaching and learning measures to ensure success for ALL students! Thank you for being a part of eStem; it's going to be a great year!