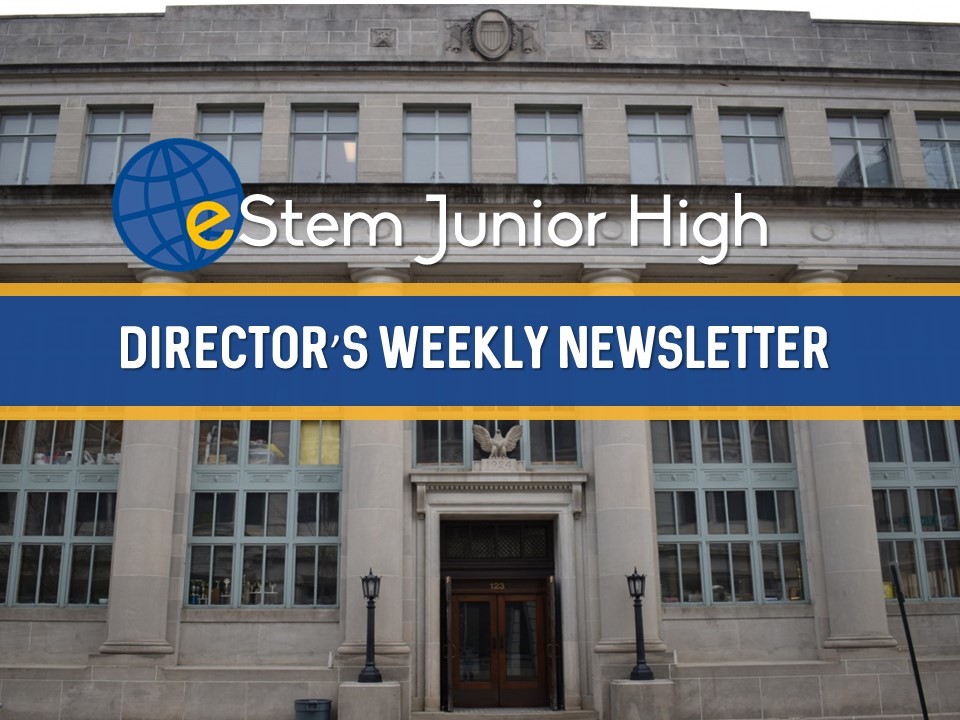 EJHS Directors Notes (April 27)
EJHS News
Friday, April 27, 2018
eStem Junior High Community,
Please review the "Soiree Auction" document (link). Any and all donations are GREATLY appreciated. All of the money raised from this auction goes directly back to our students via our innovative grant program. If you have questions about this year's STEM Soiree, please contact Ms. Stafford: mary.stafford@estemschools.org.
Junior High Field Days will be May 23 and May 24. Junior High Field Days will be at MacArthur Park. 7th and 8th graders will go on May 23, and 9th graders will go on May 24. Students will participate in all kinds of fun games with their teachers and classmates. They will also have the opportunity to purchase lunch and snacks, and we will have a DJ and a lounge area. Every student will be required to purchase a field day t-shirt. T-shirt order forms will serve as permission slips and were due last Wednesday, April 25. Students who did not submit a t-shirt order form this week will not be able to attend field day.
Announcements:
· Interim reports will be sent home next Monday, April 30. Please sign and return these by next Friday, May 4.
· All students with lockers must have their lockers cleared out by May 11. This will allow us enough time to collect locks and make repairs.
· Our 2017-2018 Wellness Policy and Triennial Assessment can be found on our website under State Required Information.
· To effectively transition our financial records on a yearly basis, we are unable to take payment in the form of checks beginning May 15.
· 9th graders will begin their ACT Aspire testing next week. They will test first thing in the morning Monday-Thursday. Please review the attached PowerPoint presentation for schedule information and helpful testing tips.
· 9th grade celebration will be May 25. We encourage all of our 9th grade parents to attend the 9th grade celebration ceremony, which will be roughly an hour on the morning of May 25. Specific times will be shared soon.
· The LRPD has invited eStem students to participate in this summer's Teen Police Academy. The mission of the Teen Police Academy is to increase youth awareness and confidence, improve youth relationships, and create a better understanding between the youth and the LRPD through education, fun, and learning. For more details, please see the attached "Teen Academy Flyer." (LINK)
· This year's eTeam Family Night will be at Dickey-Stephens Park for a Traveler's baseball game on May 11. Parents can purchase a package deal for the designated eStem area, food included with admission. The all you can eat package deal is $16.50. There are also wristbands available for Kids' Korner. Wristbands for Kids Korner are $4. Children under the age of 3 will receive free admission. This is all available for purchase on MySchoolBucks.com by searching Family Night at Travs Game.
· Varsity Basketball Tryouts will be held in May at the UALR Jack Stephens Center on court #2. The Varsity boys' tryouts will be May 1-2 from 4:00-6:00. The Varsity girls' tryouts will be May 3-4 from 4:00-6:00.
· Is your child planning on taking the written driver's test soon? If so, complete the form with this link JHSDriversPermitRequestForm or have your child drop by Mrs. Peterson's office, room 205, to request the form needed to take the test. Students must have already turned 14 years old when requesting the form. Once the form is completed it will be sent home with your child.
· 2018-2019 calendars can be accessed at thins link: 2018-19 K-9 Calendar. We ask that families attempt to schedule vacations and other recreational activities during summer, fall break, Thanksgiving break, winter break, or spring break. If you would like to request extended absences during scheduled school days, please email me directly (jarrod.dupriest@estemschools.org).
· All students who purchase a lunch will need to have money on their lunch account. Money can be loaded onto lunch accounts at www.myschoolbucks.com.
· Please make sure you are checking Home Access Center (HAC) on a regular basis. If you have any questions about the grades you see in HAC, make sure to contact your child(s) teacher ASAP. HAC: https://hac31.eschoolplus.k12.ar.us/HomeAccess
· If your child will be absent, please make sure to email JHSattendance@estemschools.org to let us know!
· If you have an address, email, or phone number change, please send those changes to Mrs. Peterson: allyson.peterson@estemschools.org.