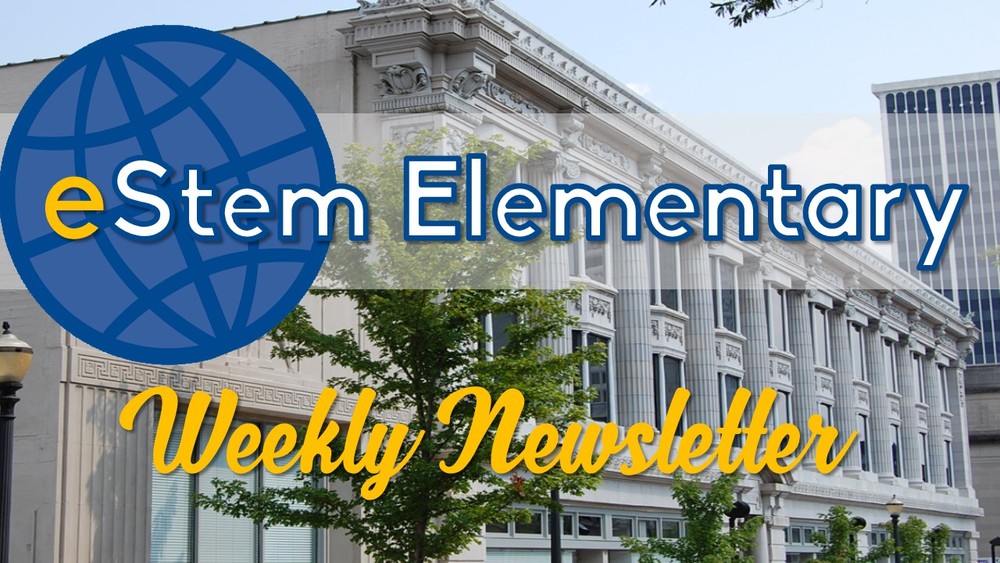 Elementary Newsletter (April 20th)
eStem News
Friday, April 20, 2018
Dear Parents,
Happy Friday! I hope you had a great week! Our 3rd-6th graders did an excellent job testing this week! We are so proud of their hard work and can't wait to see their results. Thank you for making sure they were at school and ready to go this week!
Our annual STEM Soiree is only three weeks away! We hope that you will make plans to join us Saturday, May 5 from 6:30 to 9pm at Next Level Events. Tickets are $50.00 each and include food and beverages at the event (must be 21 to attend). There will be a silent auction with tons of awesome items to bid on. We will also announce our Vicki Saviers Educator of the Year winner, the school-level teacher of the year winners, the HEART of eStem winner and the Universal Studios Raffle ticket winner. Click the link below to buy your ticket today. If you have a sponsorship or donation question please email rebecca.cleveland@estemschools.org.
Soiree Ticket Form (Once a ticket is purchased it will be sent home via your student or if requested held at the door).
This year, our nominees for Teacher of the Year are Caitlyn Williams, Amy Littleton, Allison Enderlin, and Lauren Yarberry! Our K6 nominee for the HEART award is Mrs. Scott! We are so proud of all of our teachers, and this is a great opportunity to recognize how amazing they are!
You can still purchase a raffle ticket to win a trip to Universal Studios! Our students are doing a great job selling those tickets! Tickets are $5.00 and can be purchased from any eStem student, the office, or by clicking here. The raffle winner will receive a trip to Universal Studios-Orlando! Packets have been sent home with students, and those who sell 75, 100, or 150 tickets will get a prize! If your child needs more tickets to sell, please email Ms. Dickson.
All proceeds from the Stem Soiree and the raffle go to benefit our Innovative Grant Program. The Innovative Grant Program gives our teachers the opportunity to apply for a grant for an innovative classroom idea. If they receive the grant, they receive money for their materials and supplies and also a bonus for trying something new! Through this process, we identify new ideas to help students succeed in the classroom. Buying (& selling!) raffle tickets and attending the Soiree is a fun way to support our teachers and allow them to try innovative ideas in their classrooms!
This year's eTeam Family Night will be at Dickey-Stephens Park for a Traveler's baseball game on May 11! Last year, we had the best time at the Travs game, and we can't wait to hang out with other eStem families at the game again this year! Parents can purchase a package deal for the designated eStem area, food included with admission. The all you can eat package deal is $16.50. There are also wristbands available for Kids' Korner. Wristbands for Kids Korner are $4. Children under the age of 3 will receive free admission. This is all available for purchase on MySchoolBucks.com by searching Family Night at Travs Game.
Notes from the Office
2018-19 Calendar: Next year's school calendar has been released! Here's the link to access it - 2018-19 K-9 Calendar
Yearbooks: Yearbooks can no longer be purchased online, but you can still purchase one at the school! If you have additional questions about the yearbook, please email Ms. Dickson at jessica.dickson@estemschools.org.
Online eStore ½ Price Sale: Our t-shirts, hoodies and pull overs are ½ price! Click here to visit the store and see what we have!
Email, Address, Phone Number Changes: If you have an address, email, or phone number change, please email those changes to Mrs. Owens. This helps us keep our records as up-to-date as possible.
Attendance: If your child will be absent, please make sure to email k6attendance@estemschools.org to let us know.
Class Picture Money is Due Monday: Class picture forms and money are due Monday, April 23rd. Ms. Dickson has order forms in her office.
Easy Money! Do you shop at Kohl's, Walmart, Best Buy? All of these plus many others will give our school a percentage of their sales when you sign up and shop through www.schoolstore.net Students receive a prize when they return their envelope, too!
Save the Date
Every Friday: Cash for Casual for $1.00 *When we are out on Friday, we will have Cash for Casual on Thursday.
April 26: Interim Reports Sent Home
May 7-18: NWEA Testing
May 5: Stem Soiree
May 8-9: 4th Grade Trip to Crystal Bridges
May 17: 5th and 6th Grade Field Day at Wild River Country
May 18: K-4 Field Day
May 25: Kindergarten Bridging Ceremony (more info to come from your child's kindergarten teacher)
May 29: No School - Memorial Day
June 1: Last Day for Students
Have a great weekend! See you Monday!