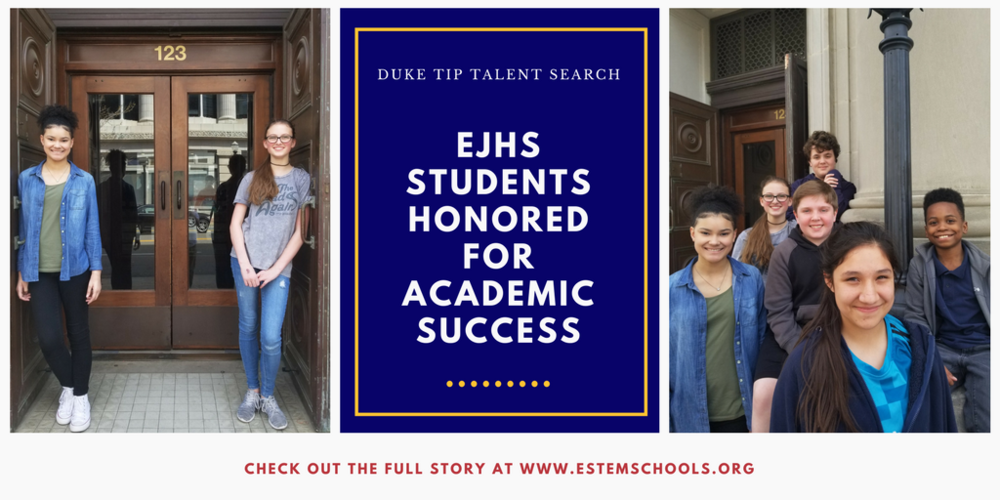 EJHS Students Honored for Academic Success
eStem News
Friday, April 13, 2018
Sydney Massey and Madison Roberts, 7th grade students at eStem Junior High are among the students being honored by the Duke University Talent Identification Program (Duke TIP) for their exceptional scores on the ACT. They will be recognized at a ceremony at University of Arkansas at Little Rock in early May.
Duke TIP's 7th Grade Talent Search identifies students across the United States who have scored at or above the 95th percentile on a grade-level standardized test. As part of the program, these academically talented students take above-level college-entrance exams to learn more about their abilities. Duke TIP then hosts annual recognition ceremonies to honor the seventh graders who scored the highest on these ACT or SAT exams.
Above-Level testing is an essential component of the Duke Tip program. Think of testing like a measuring tape for academic talent: you wouldn't use a five-foot long measuring tape to determine the height of a six-foot tall person—all you would be able to tell for sure is the person is over five feet tall. Instead, you'd get a longer measuring tape. That's the role that above-level testing plays for students who top out on grade-level exams. Grade-level tests don't offer much insight into gifted students' strengths and abilities because they don't have a high enough ceiling. On the other hand, an above-level test, such as the ACT, originally designed for older students can reveal academic strengths in younger students that may otherwise remain undiscovered. With more precise information, educators and parents can create better educational plans for gifted students in high school and beyond.
As part of the talent search enrollment, Duke TIP allows students to take the same ACT or SAT test that college-bound high school students take. The test is meant to be diagnostic, discovering how far above grade level they really are. As a bonus, it offers a low-stress, low-risk opportunity to experience the same exam they will have to take again during the college admissions process. After taking the ACT or SAT, students will receive a score report from the testing agency comparing their scores to recent US high school graduates.
A total of 6 eStem 7th grade students were selected to participate in this year's Talent Search:
- Josiah Burns
- Sydney Massey
- Elizabeth Reyes
- Madison Roberts
- Jackson South
- Quentin Young
We are exceptionally proud of these students and look forward to watching them continue to grow. Please help us congratulate each of these students for their achievements.