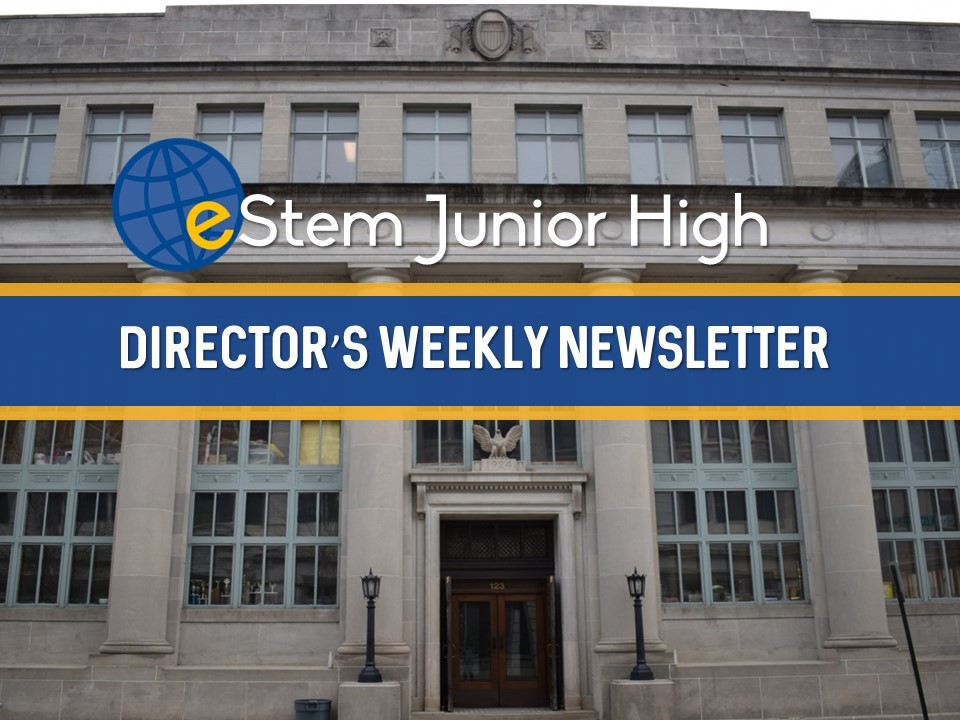 EJHS Directors Notes (April 12)
eStem News
Thursday, April 12, 2018
eStem Junior High Community,
Remember, students do not have school tomorrow. I hope they all enjoy a three-day weekend!
Also, I want to give a quick shout-out to two of our 7th graders: Madison Roberts and Sydney Massey. They both earned state recognition via the Duke TIP Talent Search for their performance on the ACT and/or SAT standardized tests. Congratulations are definitely in order for these two young women!!
If you haven't already heard, every school in the eStem district earned an A on their state report card. This is a huge deal, and it is a direct result of the hard work put forth by our entire community!! If you get a chance to congratulate your child's teachers, I encourage you to do so.
Stem Soiree, Universal Studios, and Raffle Prizes
Our annual STEM Soiree will be will be from 6:30-9:00 on May 5 at Union Station/Next Level Events.
At this event, we will recognize our Educators of the Year and our inaugural H.E.A.R.T. Award recipient. We will also have a silent auction full of great prizes! Finally, we will be announcing the winners of our Universal Studios raffle (see next paragraph). If you would like to attend this event, you can purchase tickets using this SOIREE TICKET FORM. Ticket prices include admission and dinner. No guests under the age of 21 will be permitted.
Would you like to win a trip to Universal Studios? At this year's annual Stem Soiree, we will be raffling off a trip to Orlando! The raffle winner will receive a 3 day trip to Orlando's Universal Studios (airfare, lodging, theme park tickets). To win this awesome prize valued at $3,000, all you need to do is buy $5 raffle tickets! Anyone is eligible, so feel free to start sharing this opportunity with friends and families. Every ticket purchased equals one raffle entry, and there is no limit n the number of raffle tickets that can be purchased. Raffle Tickets can be bought using thisRAFFLE TICKETS LINK.
Students can earn awesome prizes by selling raffle tickets for Universal Studios! Students who sell 75 raffle tickets will win a $75 visa card. Students who sell 100 raffle tickets will win a pair of Beats by Dre wireless headphones. Students who sell 150+ raffle tickets will win an Apple Watch! Students and parents can use the same RAFFLE TICKETS LINK to sell tickets and earn these prizes. If you are distributing this link to friends and family, be sure to remind them they must give your child credit for the ticket being sold by completing the text box labeled "Student's First & Last Name (for credit in raffle sales)."
Other School Business
All Jog-A-Thon pledges are due next Friday, April 20. If you have any questions regarding these donations, please email Ms. Stafford or Ms. Scales.
7th graders will begin their ACT Aspire testing next week. They will test first thing in the morning Monday-Thursday. Please review the attached PowerPoint presentation for schedule information and helpful testing tips.
We will announce the winners of our inaugural ACT Aspire Amazing Race Test Prep next week. The event was a huge success. If you were unable to come, you can find important testing information in the attached PowerPoint presentation.
Junior High Cheer Clinic and Tryouts will be held at First Methodist Church from April 23 through April 25. Please see the flyer (here) for more details regarding Junior High AND Varsity cheer clinics and tryouts.
Junior High Field Days will be May 23 and May 24. 9th grade celebration will be May 25. We encourage all of our 9th grade parents to attend the 9th grade celebration ceremony, which will be roughly an hour on the morning of May 25. Junior High Field Days will be at MacArthur Park. 7th and 8th graders will go on May 23, and 9th graders will go on May 24. Every student will be required to purchase a field day t-shirt. More information will be shared in the coming weeks, but we wanted everyone to have these dates.
Is your child planning on taking the written driver's test soon? If so, complete the eJHS Driver's Permit Request or have your child drop by Mrs. Peterson's office, room 205, to request the form needed to take the test.
In addition to our 2019 British Isles spring break trip, we will also be hosting a trip to Washington D.C. through a program called Close Up. This will be our 4th time collaborating with Close Up for this trip, and you can learn more about the organization at THIS LINK. The trip will take place from March 17 – March 20 of 2019 and costs roughly $1,600. This price includes airfare, hotel accommodations, and food. eStem employees will be chaperoning the trip. An interest meeting will be scheduled soon; however, if you are interested in learning more, please email Mr. DuPriest: jarrod.dupriest@estemschools.org.
The 2018/19 calendar is available Now! Calendars can be viewed here. We ask that families attempt to schedule vacations and other recreational activities during summer, fall break, Thanksgiving break, winter break, or spring break. If you would like to request extended absences during scheduled school days, please email me directly (jarrod.dupriest@estemschools.org).
Please make sure you are checking Home Access Center (HAC) on a regular basis. If you have any questions about the grades you see in HAC, make sure to contact your child(s) teacher ASAP.