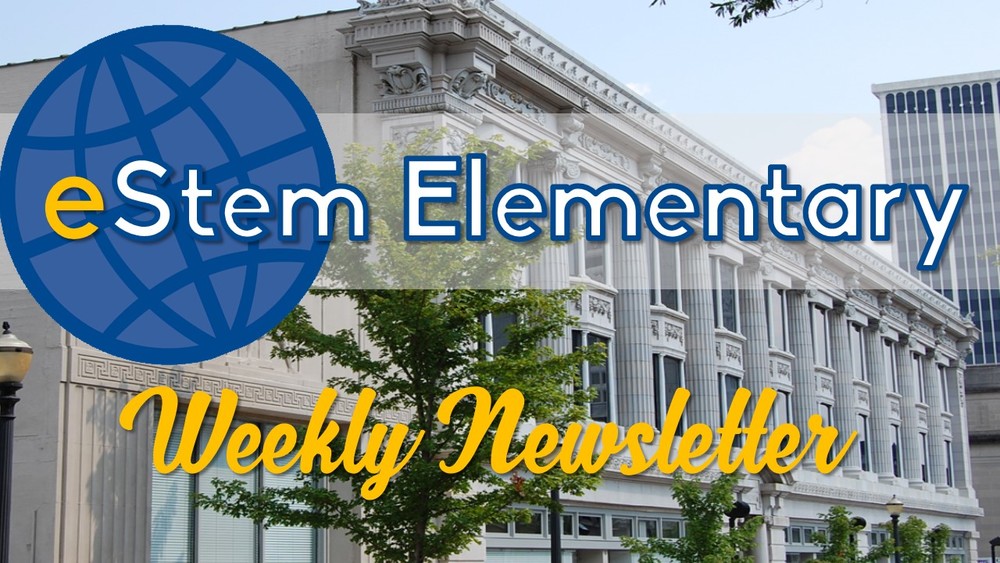 Elementary Announcements (March 16)
Elementary News
Friday, March 16, 2018
Dear Parents,
Happy Friday & Spring Break! I hope you all enjoy this break. When we return, we will have a busy, action-packed fourth quarter with Jog-A-Thon, testing, Field Days, and more! The next two months will fly by, and summer will be here before we know it!
Returning Student Registration Forms were sent out this week! Specific emails were sent out to students who will be attending the Downtown Elementary Campus and the East Village Elementary Campus. These registration forms are due by March 30th. If your child will not be returning to eStem for the upcoming school year, please let us know so that the seat can be offered to another child. If you have any questions or did not receive this email, please don't hesitate to contact Ms. Owens, our Registrar.
The 3rd-6th grades will be taking their ACT Aspire Summative Test the week of April 16-20th. This will be our final ACT Aspire test and will be an important assessment to show how amazing and smart our students are! We will send out more specific testing days and times for each grade level after spring break, but please avoid scheduling doctor's appointments, etc. this week and plan to have your child here at school on time each day that week (and every week!) unless it's absolutely unavoidable. We appreciate your help with this!
Don't forget to collect pledges and donations for Jog-A-Thon over the break! Remember, to participate, ALL students will need a signed permission slip! Permission slips are due Monday, March 26th when we return from Spring Break.
We still need Jog-A-Thon volunteers! There are multiple ways you can help: (1) classroom volunteers to help walk students to/from Jog-A-Thon, (2) Clinton Library Volunteers to help set-up, manage, and break down the event, and (3) donation volunteers to provide snacks and water. If you are interested in volunteering for Jog-A-Thon, you can sign up for a shift using the links below!!
Clinton Library Volunteer Sign Up
We are so excited about this event and thank you, in advance, for your help! If you have any specific questions, please contact Ms. Dickson or our eTeam chairs, Leigh Austin and Sara Drew.
As our eStem campuses grow, we are currently seeking teachers for all positions K-12. If you or anyone you know is interested in interviewing for a teaching position, please visit our website and click on the Careers tab. We also have a Career Fair for prospective employees on Saturday, March 31st at all three campuses from 9:00-12:00 that morning, and Prospective Teacher Tours on April 3rd and May 22nd at 8:30 for K6, 9:30 for JH, and 1:00 for HS.
Notes from the Office
· Jog-A-Thon: Your child should have received his or her envelope for collecting pledges this week! Over spring break, go get those pledges & donations! Donations can also be made online at www.mySchoolBucks.com. The elementary will participate on March 29 & 30. Please see Mrs. Forster's emails for the detailed schedule.
· 2018-19 Calendar: Next year's school calendar has been released! Here's the link to access it - 2018-19 K-9 Calendar
· Box Tops! If you would like to help get our Box Tops ready to submit, please email Mrs. Walters. She will give you all the details! You may still send Box Tops in up until the last day of school.
· Yearbooks: If you would like to preorder a yearbook, click here. You'll need to enter yearbook id #12963718. Yearbooks are now $45. If you have additional questions about the yearbook, please email Ms. Dickson at jessica.dickson@estemschools.org.
· Online eStore: Click here to visit the store and see what we have! Look for our clearance sale after Spring Break!
· Email, Address, Phone Number Changes: If you have an address, email, or phone number change, please email those changes to Mrs. Owens. This helps us keep our records as up-to-date as possible.
· Attendance: If your child will be absent, please make sure to email k6attendance@estemschools.org to let us know.
Save the Date
Every Friday: Cash for Casual for $1.00 *When we are out on Friday, we will have Cash for Casual on Thursday.
March 16: End of 3rd Quarter
March 19-23: Spring Break
March 26: 4th Quarter Begins
March 29 & 30: Jog-a-thon
April 2: Report Cards sent home (please sign & return by April 5th)
April 4 & 5: Kindergarten Spring Portraits (more info coming soon!)
April 11: Class Pictures
April 13: Teacher Work Day/No School for Students
April 16-20: ACT Aspire Summative Testing, 3rd-6th grades
Have a great spring break!
Jessi Forster
Elementary Director