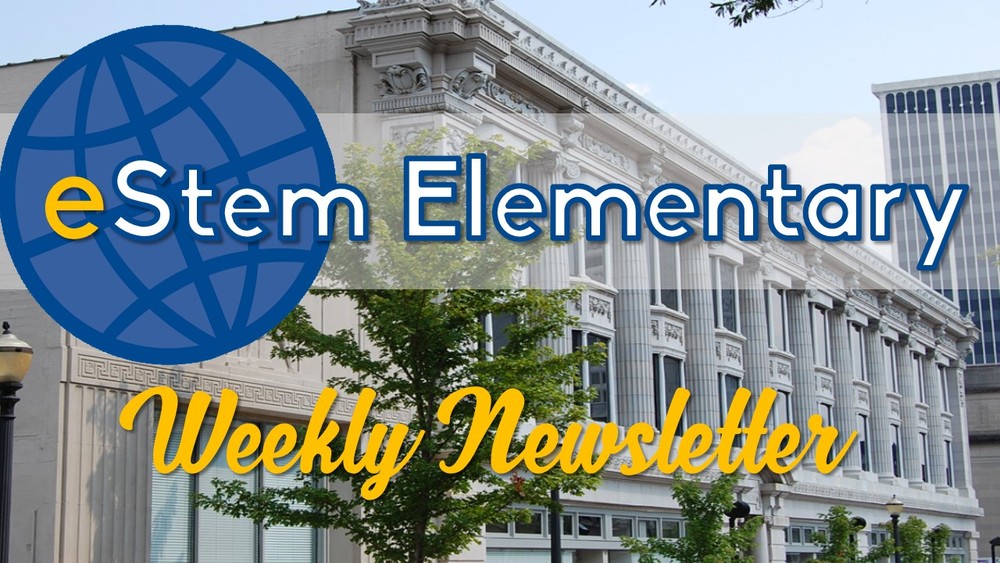 Elementary Newsletter (3/9)
eStem Elementary
Friday, March 09, 2018
eStem Elementary School
Weekly Newsletter (3/9)
Happy Friday! I hope you've enjoyed the beautiful weather this week; maybe this means spring is almost here! Don't forget to spring forward this weekend for Daylight Savings Time!
Returning Student Registration Forms were sent out this week! Specific emails were sent out to students who will be attending the Downtown Elementary Campus and the East Village Elementary Campus. These registration forms are due by March 30th. If your child will not be returning to eStem for the upcoming school year, please let us know so that the seat can be offered to another child. If you have any questions or did not receive this email, please don't hesitate to contact Ms. Owens, our Registrar.
Next Monday, Tuesday, and Wednesday, our 3rd-6th graders will be taking the ACT Aspire Interim Assessments to help prepare our students for the ACT Aspire in April. This is the state mandated standardized test that all public schools will take this year. These Interim Assessments give us a chance for students to practice in an environment that will be most like the actual tests in April - like a dress rehearsal! The schedule is below:
· Monday, March 12th - 5th & 6th grades testing
· Tuesday, March 13th - 3rd grade testing
· Wednesday, March 14th - 4th grade testing
It's time for our second annual Jog-A-Thon! This is a K-9 school-wide event sponsored by our parent volunteer organization, the eTeam. Jog-A-Thon is a fundraiser to raise money that goes directly back to our students and classrooms. Last year's Jog-A-Thon raised $17,000 for technology! This year, our goal is $20,000 - we can do it with your help! Permission slips are required for students to walk to the Clinton Library, and participate in the actual event. These are available for completion and submission here. These permission forms are due no later than Monday, March 26. Elementary students will be participating on March 29th & 30th. Please see the attached schedule for your child's specific Jog-A-Thon time.
Before the Jog-A-Thon, students will be given individual envelopes containing a pledge form. These will be sent home next week. Students can ask friends and family members to sponsor them by pledging an amount of money for each lap they run/jog/walk. On the day of the Jog-A-Thon, students will run/jog/walk with their team around a track set up on the Clinton Library grounds. Completed laps will be tallied by eStem representatives and/or volunteers (1 lap=1/8 mile). Each class will warm up, run/jog/walk, then cool down and have a snack before returning to eStem. Volunteers and/or teachers will escort students from eStem, help them get started, count laps for them to collect pledges from friends and family, and escort students back to eStem when they are done. We will send an email when these envelopes are sent home reviewing the details and outlining the prizes!
Last year, eStem Jog-A-Thon's HUGE success was largely thanks to the many parents that volunteered. This year, we are asking for (1) classroom volunteers to help walk students to/from Jog-A-Thon, (2) Clinton Library Volunteers to help set-up, manage, and break down the event, and (3) donation volunteers to provide snacks and water. If you are interested in volunteering for Jog-A-Thon, you can sign up for a shift using the links below!!
Clinton Library Volunteer Sign Up
We are so excited about this event and thank you, in advance, for your help! If you have any specific questions, please contact Ms. Dickson or our eTeam chairs, Leigh Austin and Sara Drew.
Notes from the Office
2018-19 Calendar: Next year's school calendar has been released! Here's the link to access it - 2018-19 K-9 Calendar
Yearbooks: If you would like to preorder a yearbook, click here. You'll need to enter yearbook id #12963718. Yearbooks are now $45. If you have additional questions about the yearbook, please email Ms. Dickson at jessica.dickson@estemschools.org.
Online eStore: Click here to visit the store and see what we have! Look for our clearance sale after Spring Break!
Email, Address, Phone Number Changes: If you have an address, email, or phone number change, please email those changes to Mrs. Owens. This helps us keep our records as up-to-date as possible.
Arriving After 8:00?: Please walk your child into the building, if he or she arrives after 8:00 a.m. We ask that you check-in with Mrs. Scott at the front desk.
· Our BMI and Scoliosis screenings will be March 14th. K, 2nd, 4th, 6th grades will be screened for BMI. 6th grade girls will be screened for Scoliosis. These are state-required screenings; however, if you do not wish for your child to participate in the screenings, please click the link and complete the form. Health Screening Opt Out Form
· Box Tops! If you would like to help get our Box Tops ready to submit, please email Mrs. Walters. She will give you all the details! You may still send Box Tops in up until the last day of school.
· Attendance: If your child will be absent, please make sure to email k6attendance@estemschools.org to let us know.
Save the Date
Every Friday: Cash for Casual for $1.00 *When we are out on Friday, we will have Cash for Casual on Thursday.
March 13-14: 3rd-6th Grade ACT Aspire Interim Testing
March 16: End of 3rd Quarter
March 19-23: Spring Break
March 26: 4th Quarter Begins
March 29 & 30: Jog-a-thon
Have a great weekend! See you Monday!