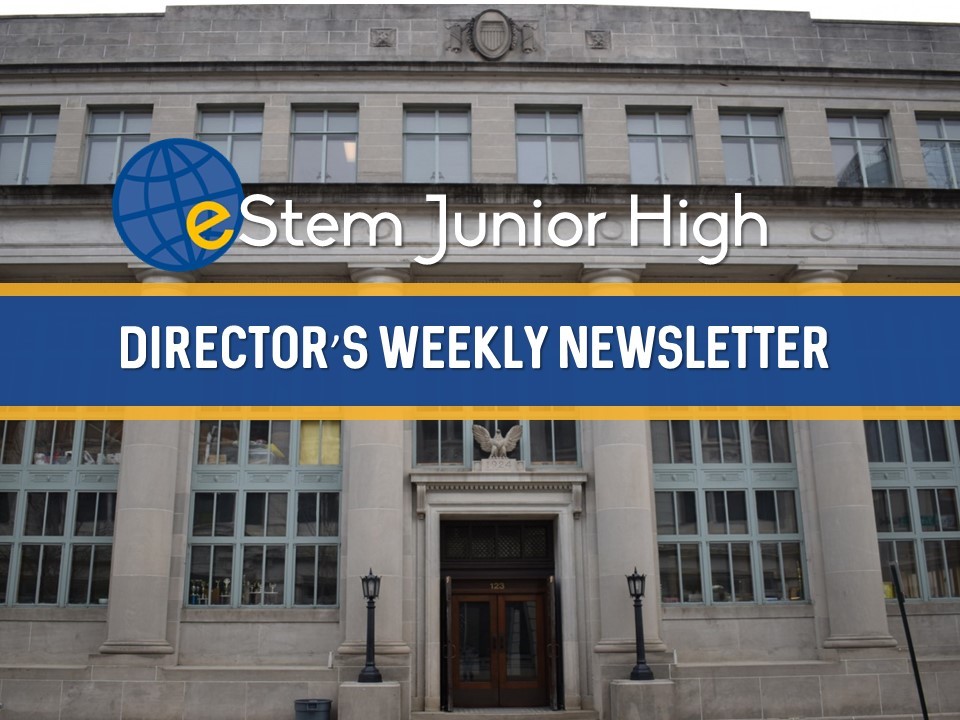 Junior High Director's Weekly Newsletter (March 3)
Jarrod DuPriest
Friday, March 02, 2018
eStem Junior High Community,
We had a safe and productive week at eStem Junior High! Please check Home Access Center with your student. If you have questions about your child's grades and/or progress, please contact your child's teacher. I am happy to announce that our Quiz Bowlers placed 3rd in the regional tournament, 3rd in the state tournament, and have been invited to nationals in either Chicago or New Orleans. Also, our Math Counts team placed 4th at their chapter competition and will be advancing to state on March 10. We are so proud of our students for these academic accomplishments!

Last week, I notified you of a potential threat that was reported to our school. I can now inform you that we have worked with the Little Rock Police Department and have concluded our investigation into that allegation. Having shared all of our information with the LRPD and having conducted a thorough review process of our own, the evidence provided was insufficient to substantiate the allegation, and criminal charges are not being pursued. Our students' safety and education will always be our top priority. We will continue to practice safety drills and update crisis plans, and we will continue to talk with students about reporting anything that makes them feel unsafe and/or uncomfortable. We ask that you have this same conversation with your children at home.

We will be celebrating Pi Day on March 14! Our teachers are planning some fun activities involving the number Pi, and students will be able to dress (within the attached guidelines) out of uniform to show off their most creative Pi Day quotes, puns, and designs.

Students are not allowed to have food delivered to the school building by restaurants. Students should either bring their lunch or get a tray that is provided by our catering company in the lunchroom. If a student forgets his or her lunch, they will be allowed to call home. If a lunch cannot be brought to school by a parent or guardian, we will make arrangements for students to get a tray.

We've raised more than $300 for C.O.T.A. thus far, and I am SO proud of our students' enthusiasm and generosity! In honor of a former eStem student who is battling a congenital heart defect and in need of a heart transplant, eStem Junior High is sponsoring a coin drive to raise money for Children's Organ Transplant Association (C.O.T.A.). The grade level that donates the most money will win a week's worth of free dress after spring break. You can use THIS LINK to learn more about this young man's story.

UALR is organizing a STEM Leadership Conference for girls on April 13th and a Day at the Museum for girls interested in STEM learning on May 14. As we continue to plan details, we will share more information. For now, we just wanted to give the parents of our 7th and 8th grade girls some dates to consider.

Please make sure you are checking Home Access Center (HAC) on a regular basis. If you have any questions about the grades you see in HAC, make sure to contact your child(s) teacher ASAP.

· All students who purchase a lunch will need to have money on their lunch account. Money can be loaded onto lunch accounts at www.myschoolbucks.com.
· HAC (Home Access Center) can be used to access students grades and attendance records. You can use the following link and the username/password in your child's open house packet to access HAC: https://hac31.eschoolplus.k12.ar.us/HomeAccess
· If your child will be absent, please make sure to email JHSattendance@estemschools.org to let us know!
· If you have an address, email, or phone number change, please send those changes to Mrs. Peterson: allyson.peterson@estemschools.org.