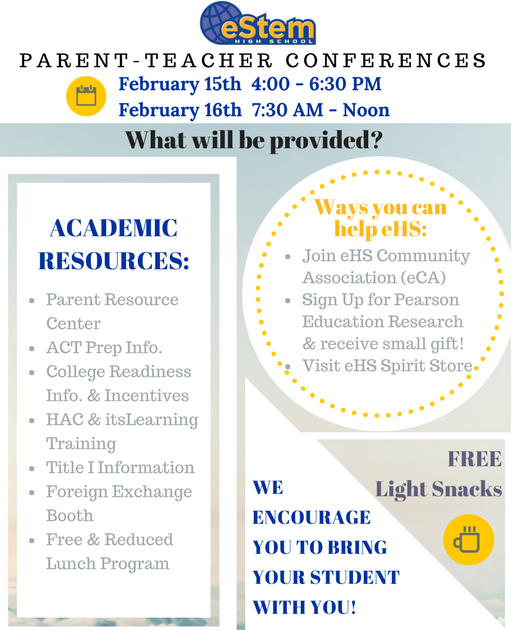 High School Weekly Newsletter (2/9/18)
Meghan Thompson
Friday, February 09, 2018
Happy Friday, Mets Nation!
This week was our halfway mark for the 3rd quarter! Students received an interim report this Thursday and Friday for classes in which they have earned below a "C" average. We welcome each of you to attend our Parent-Teacher Conferences next week! Please see the flyer above and our weekly newsletter for additional information.
Click here to view our Weekly Newsletter
What's in this week's newsletter?
February Student and Educator of the Month
3rd Quarter Interim Reports
Parent-Teacher Conferences - 2/15 & 2/16
Salsa Night to Benefit Study Abroad Trip - Monday, 2/12
Talent Show Applications
Senior Cabinet Events
UCA College Visit - 2/14
UALR Payment Due for Concurrent Credit Classes - 2/15
Senior Night - 2/9
Mets Spotlight: Jaylen Mallard
COTA Team for 2017 eHS alumni, Daniel Smith
No Valentine's Day Deliveries allowed at eHS