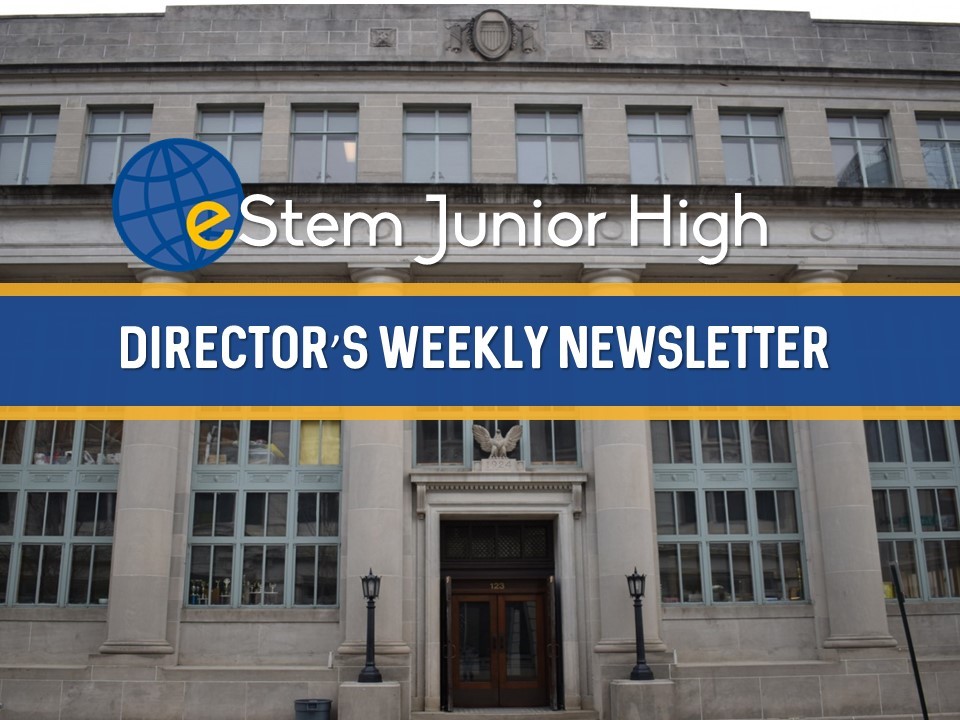 EJHS Directors Notes (Feb. 16)
eStem News
Friday, February 16, 2018
eStem Junior High Community,
Please remember that students will not report to school next Monday, February 19. I hope all of our students enjoy a relaxing 4-day-weekend!
In light of recent national events, we want to communicate to parents that your children's safety is our top priority. Each building maintains multiple safety plans and precautionary measures to keep our students and staff members safe. We work closely with LRPD officers and other emergency responders to ensure that we have established effective safety protocol in the case of all emergencies. We are dedicated to providing a safe and secure environment for all eStem community members.
Announcements
Students will take their last ACT Aspire Interim over the course of the next two weeks. 7th grade will test Wednesday, February 21 and Thursday, February 22. 8th grade will test Friday, February 23 and Monday, February 26. The 9th grade will test Tuesday, February 27 and Wednesday, February 28. These interims are simply practice tests to help prepare our students for the summative/comprehensive test in April.
If you were unable to schedule a conference with a particular teacher, please reach out to request a phone conference at a later date. We know the prescheduled slots fill up quick, and we want to make sure all of our parents who have questions get the opportunity to ask those.
To reinforce behavior expectations, teachers will be given the temporary option of issuing lunch detentions. Currently, detentions are offered before and/or after school. Lunch detentions will simply provide an additional time during which detentions can be served, parents can be called, and behavior expectations can be reinforced via timely consequences. This will not be a permanent measure and should last no longer than two weeks.
Parents, you now have the option to order a $10 yearbook family ad in which you can personalize a message to your child! Parent ads are also available and can be purchased at www.ybpay.com -- 1/4 page ads are $35, 1/2 page are $50, and full page ads are $100. If you have any questions about yearbook, please email Ms. Scales.
Please make sure you are checking Home Access Center (HAC) on a regular basis. If you have any questions about the grades you see in HAC, make sure to contact your child(s) teacher ASAP.