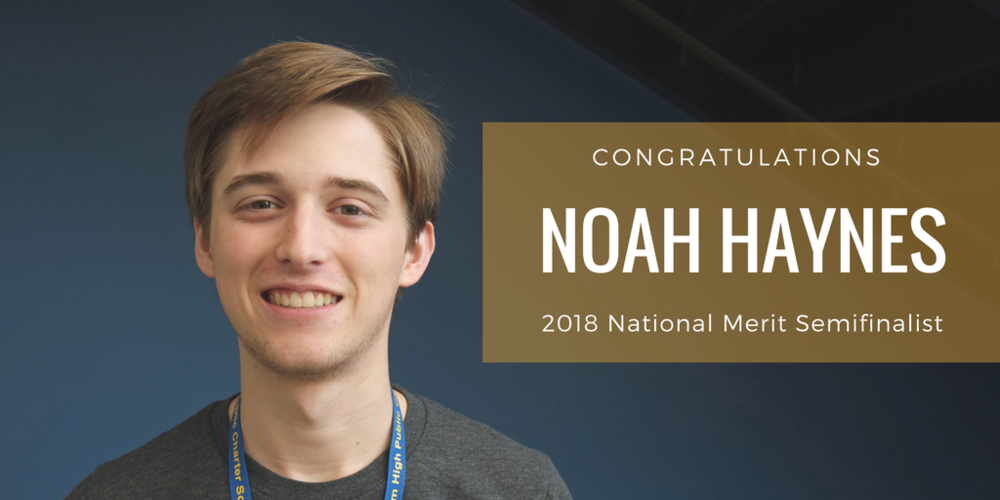 eStem Senior Named National Merit Semifinalist
Dennis Pevey
Thursday, September 21, 2017
eStem High School is extremely proud to announce that Noah Haynes has been named a 2018 National Merit Semifinalists!
The National Merit® Scholarship Program is an academic competition for recognition and scholarships that began in 1955. High school students enter this program by taking the Preliminary SAT and achieving a particular score on the exam. There are around 1.5 million students that participate in this exam every year. Of those students, about 16,000, or 1% of the total graduating seniors, have scores which qualify them as Semifinalists.
There were 136 Semifinalists named in Arkansas this year. These students are now eligible to continue in the competition for a number of scholarships, worth more than $32 million collectively. About 90 percent of the semifinalists are expected to become finalists in the competition and about half of the finalists will win National Merit Scholarships. The finalist and National Merit Scholars will be announced later this spring.
Since 2008, we've had a number of student selected for awards based on their scores on the PSAT/National Merit Scholarship Qualifying Test: 2 National Merit Scholars, 2 National Achievement Scholars, 2 National Hispanic Program Recipients as well as a number of finalists and semifinalists. Noah joins this prestigious group of students and could be our third National Merit Scholar!
Way to go Noah! We are all rooting for you!!